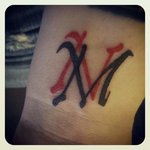 - Sat Sep 22, 2012 6:35 pm
#479867
Today's Tedious Link:
Daft Punk, One More Time
Today's Transcript:
'Jungle' rhymes with 'bungle', who was in 'Rainbow'. Rainbow had a hit in 1979 with 'Since You've Been Gone'. 'Gone With The Wind' is one of the most famous films that I've never seen. 'Seen' is the past tense of 'saw', as in sight, rather than what a magician would do to a woman. 'Woman' is a song title that links records by Wolfmother and John Lennon. John Lennon's son Julian had a hit with 'Saltwater'. Salt water is good for treating an open wound or gash. If you swap the 'G' of 'gash' for an 'M' you get 'mash', which is one of my favourite types of potato. 'Potato' in Spanish is 'patatas', as taught to us the other day by Tim Westwood. Westwood was in Spain last weekend for Six weeks of Summer, and this weekend it's the turn of JK & Joel, who are off to Tenerife as Radio 1 goes on holiday one more time, which links to Daft Punk and 'One More Time.
Flaws:
'Seen' is the past tense of 'see', not 'saw'.
Tedious Facts:
Released - November 2000
Highest UK Chart Position - #2
Bas wrote:She's the Tina Daheley of chrismoyles.net
Missed any of Dave's Tedious Links? Catch up with my Tedious Links 2010-12 page here