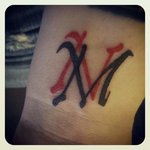 - Sat Nov 10, 2012 6:34 pm
#485437
Today's Tedious Link:
TLC, Waterfalls
Today's Transcript:
A train is probably the only form of transport that runs on rails. If you swap the first letter of 'rails' for an 'N' you get 'nails', which are what you find on your fingers. Fingers are the part of the body where you wear rings. Rings is also a word associated with telephones. Telephones were invented by Alexander Graham Bell. Bells are what you might ding-dong merrily at Christmas. Christmas takes place every year. A year is made up of months. If you multiply the number of months in a year by five you get 60, which is also the national speed limit on a single carriageway. Single is a word associated with cream. Cream is unsuitable for those that are dairy intolerant. 'Dairy' is an anagram of 'diary', which is where you make a note of dates. Dates are also a fruit that grow in hot places like Africa. Africa is somewhere you'd find a lot of waterfalls, which links to TLC and 'Waterfalls'.
Flaws:
Trains aren't the only form of transport that run on rails; Dave had forgotten about trams and monorails.
Tedious Facts:
Released - August 1995
Highest UK Chart Position - #4
Bas wrote:She's the Tina Daheley of chrismoyles.net
Missed any of Dave's Tedious Links? Catch up with my Tedious Links 2010-12 page here