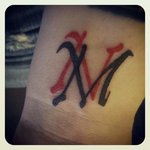 - Wed Jul 06, 2011 8:01 pm
#443581
Today's Tedious Link:
Snoop Dogg featuring Pharrell, Drop It Like It's Hot
Today's Transcript:
Scream is what you need to do if you want to go faster on the waltzer at a fairground. 'Fairground' is a horrible record by Simply Red that Zane Lowe chose as his secret love track on this show a fortnight ago. Go in the world of traffic lights is signified by the colour green, which is also the colour that you associate with grass and frogs. Frogs' legs are a delicacy in France. France is known for its food and culture. A culture of a different type is what you might find in a petri dish in a laboratory. The word 'laboratory' shares many of the same letters as 'labrador', which is a popular breed of dog. Dogs are used in Siberia to pull sleighs. 'Sleighs' rhymes with 'neighs', which is what you'd expect to hear coming out of a stable. If you remove the first letter of 'stables' you get 'tables', which are what you have to wait on in a restaurant. If you were a waiter and were handed a plate straight from the dishwasher you might drop it like it's hot, which links to Snoop Dogg and 'Drop It Like It's Hot'.
Flaws:
All good today.
Tedious Facts:
Released - September 2004
Highest UK Chart Position - #10
Strangely, Dave last linked to this track a year ago to the day, on 15 June 2010.
Bas wrote:She's the Tina Daheley of chrismoyles.net
Missed any of Dave's Tedious Links? Catch up with my Tedious Links 2010-12 page here