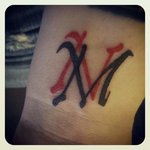 - Wed Aug 17, 2011 8:04 pm
#446581
Today's Tedious Link:
Beverley Knight, Come As You Are
Today's Transcript:
The Fratellis all use the surname Fratelli, even though they were born Lawlor, McCrory and Wallace. Wallace, first name Jessie, plays Kat Slater in 'Eastenders'. 'Eastenders' has a pub called the Queen Vic. 'Vic' rhymes with 'Dick', which is a common abbreviation of the name Richard. 'Richard III' was the title of a song by Supergrass. Supergrass include Danny Goffey, whose dad Chris used to present 'Top Gear'. 'Top Gear' is sold all around the world and makes a fortune. A fortune is how you'd describe the wealth of the Dragons, who were in with us last week, not this morning. 'This Morbing' is hosted by Philip Schofield and Holly Willoughby, who also does 'Celebrity Juice' with Keith Lemon. Keith Lemon is from Leeds, and if you travelled approximately 65 miles East from Leeds you'd get to Beverley, which links to Beverley Knight and 'Come As You Are'.
Flaws:
Seamless once again.
Tedious Facts:
Released - July 2004
Highest UK Chart Position - #9
Dave last linked to this track just over a year ago, in June 2010.
Bas wrote:She's the Tina Daheley of chrismoyles.net
Missed any of Dave's Tedious Links? Catch up with my Tedious Links 2010-12 page here