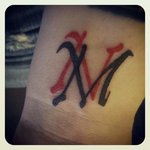 - Mon Dec 05, 2011 8:17 pm
#453417
Today's Tedious Link:
Stretch 'N' Vern present Maddogg, I'm Alive
Today's Transcript:
Your eyes are the part of the body that might need to be corrected with glasses or contact lenses. Contact lenses sit on the eye, as opposed to glasses where the lenses are in a frame. A frame is what you'd put a valuable painting in, like, say, the Mona Lisa. The Mona Lisa was by Leonardo Da Vinci, who was from Italy, like Gino DaCampo. Gino DaCampo cooks on the telly regularly with Philip Schofield and Holly Willoughby. Holly Willoughby isn't presenting 'Dancing On Ice' this year, because she's doing 'The Voice' on BBC1 with Reggie Yates. Reggie Yates shares the same surname as the late Paula Yates, who presented 'The Tube' with Jools Holland. Holland's national colour is orange. Orange, first name Jason, makes up a quarter of Take That, who ended phase one of their career with the release of 'How Deep Is Your Love' in 1996. 1996 was also the year that Stretch 'N' Vern released 'I'm Alive', which links to Stretch 'N' Vern present Maddogg and 'I'm Alive'.
Flaws:
Texters claimed that Jason Orange is a fifth rather than a quarter of Take That, but as Dave rightly pointed out, Robbie Williams has now left the band again, so we'll give him that one.
Tedious Facts:
Released - September 1996
Highest UK Chart Position - #6
Bas wrote:She's the Tina Daheley of chrismoyles.net
Missed any of Dave's Tedious Links? Catch up with my Tedious Links 2010-12 page here