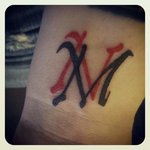 - Thu Dec 27, 2012 12:20 pm
#489331
Today's Tedious Link:
The Jam, Down In The Tube Station At Midnight
Today's Transcript:
Scooby-Doo was mates with Shaggy, while in the world of music Shaggy shares something in common with Huey from the Fun Lovin' Criminals, because I think they were both in the US Military and served in Operation Desert Storm. Storm is a word associated with teacups. Teacups are something you might find in a china shop. If you owned a china shop, the one animal you wouldn't want to come in would be a bull. Bull, first name Steve, is a footballer who used to play for Wolves. Wolves is also the former club of Nathan Blake. Nathan Blake shares the same surname as the artist Peter Blake, whose painting of John Peel features on the cover of the album 'Right Tide Wrong Speed', which features tracks from many of John's favourite bands such as The Jam, which links to The Jam and 'Down In The Tube Station At Midnight'.
Flaws:
Huey Morgan and Shaggy were indeed both in the Marines, but I can find no conclusive evidence as to whether Huey served during Operation Desert Storm, so we'll give Dave the benefit of the doubt on that one and say seamless.
Tedious Facts:
Released - October 1978
Highest UK Chart Position - #15
Bas wrote:She's the Tina Daheley of chrismoyles.net
Missed any of Dave's Tedious Links? Catch up with my Tedious Links 2010-12 page here