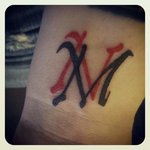 - Sat Aug 20, 2011 4:20 pm
#446812
Today's Tedious Link:
Ash and Girl From Mars.
Today's Transcript:
Zoe Sunshine On A Rainy Day - If you know anybody called "Zoe", the chances are she'll be the last name in your phonebook - Your phonebook is where you store numbers - Numbers are central to the business of arithmetic, which comes under the general heading of "Maths" - Maths is a compulsory subject at GCSE level, along with English and I think maybe even French - French is spoken throughout France and even in parts of Canada and across much of North Africa - North Africa is where you'd find Morocco, which was the setting for the classic film
"Casablanca"
- "Casablanca" literally translated means "White House" - The White House is where George W Bush hangs out - George Bush shares the same surname as Kate Bush, who had hits years ago with
"Running Up That Hill"
and of course
"Wuthering Heights"
-
"Wuthering Heights"
is also the title of a book by Emily Brontë, who was from Bradford, or round there somewhere, a bit like Tasmin Archer and Terrorvision - Terrorvision had a top 22 hit in 1995 with
"Some People Say"
- and 1995 was also the year that Ash first burst onto the scene with their debut single
"Girl From Mars"
- Which links us to Ash and Girl From Mars.
Flaws:
A few - French isn't compulsory at GCSE anymore, "Girl From Mars" wasn't Ash's first single - that was "Kung Fu", and Emily Brontë was born in Thornton, Yorkshire - not Bradford, nor Haworth (which Dave corrected himself by saying).
Our Tedious Facts:
Released - April 1995
Highest UK Chart Position - #11
(MC)
Bas wrote:She's the Tina Daheley of chrismoyles.net
Missed any of Dave's Tedious Links? Catch up with my Tedious Links 2010-12 page here