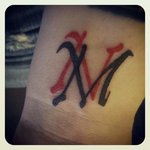 - Tue Mar 05, 2013 4:23 pm
#492835
Today's Tedious Link:
Backstreet Boys, As Long As You Love Me
Today's Transcript:
Learn to fly is something a duckling needs to master after it's learned to eat and swim. Swimming is a favourite pastime of David Walliams. David Walliams recently yanked down the trousers of Jeremy Edwards as part of a live performance of 'Little Britain'. 'Little Britain' was a 1996 hit for Dreadzone, who were one of the support acts at the Oasis concerts at Knebworth. Knebworth is also somewhere that Queen have played. Queen's Brian May is married to Anita Dobson, who was in 'Eastenders' as Angie. 'Angie' was a hit for the Rolling Stones, whose former bass player Bill Wyman used to go out with Mandy Smith. Mandy Smith shares the same surname as Robert Smith from The Cure. As well as being medicine, cure is also a word associated with bacon. Bacon sandwiches are the favourite breakfast of our executive producer Rhys, and one of his favourite pop records is today's tedious link, which links to the Backstreet Boys and 'As Long As You Love Me'.
Flaws:
Problem-free today.
Tedious Facts:
Released - October 1997
Highest UK Chart Position - #3
Bas wrote:She's the Tina Daheley of chrismoyles.net
Missed any of Dave's Tedious Links? Catch up with my Tedious Links 2010-12 page here