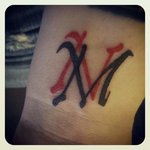 - Wed May 25, 2016 6:22 pm
#509019
Today's Tedious Link:
Warren G & Nate Dogg, Regulate
Today's Transcript:
The moon is where Neil Armstrong famously landed in the summer of 69. 'Summer of 69' was a hit for Canadian rock star Bryan Adams. Bryan Adams still holds the record for the longest run at no1, with '(Everything I Do) I Do It For You', which was taken from the soundtrack to the movie 'Robin Hood: Prince of Thieves', starring Kevin Costner. Kevin Costner has starred in loads of movies, one of the most famous being 'Dances with Wolves'. Wolves boss Mick McCarthy is currently under pressure at Molyneux, which sounds like it should be in France, but it's actually in Wolverhampton. Wolverhampton is where Noddy Holder is from, and he was the lead singer of Slade. The word 'Slade' is nearly an anagram of 'ladies', who normally get in for free if they're going to see DJ Tim Westwood. Tim Westwood is a big dog. Big dogs should be kept on leads, to stop them running off and biting people. In order to stop this happening you need people like park wardens to regulate the area, which leads us to Warren G & Nate Dogg and 'Regulate'.
Flaws:
Noddy Holder is from Walsall, which isn't technically part of Wolverhampton.
Tedious Facts:
Released - July 1994
Highest UK Chart Position - #5
Bas wrote:She's the Tina Daheley of chrismoyles.net
Missed any of Dave's Tedious Links? Catch up with my Tedious Links 2010-12 page here