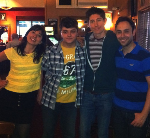 - Sun Jul 17, 2011 5:22 pm
#444423
Listen to the whole show here
(thanks to ianpwilliams)
06:34 Wednesday Cheesy Song06:36
Chris greets everyone. Chris' voice is shot from overuse. Chris brings up the EuroMillions draw from last night where
one UK winner won £161,000,000
. Tina bought five lines for the team syndicate yesterday. Chris is wondering where the £5,000,000 disappeared from the estimation and actual prize money. Chris turns on his Chris Tarrant impression to find out if the team are millionaires. Tina gives the team some options to choose from and it turns out the team won £10.40 between them. Chris asks if anybody else bought extra tickets just for themselves. Aled explains why his Twitter syndicate failed at the final hurdle. Chris reveals he bought some tickets for himself and won £4,700... but it turns out he is lying. Dom reveals what the winning numbers were (with Dale Winton).
06:48
Chris asks if any of the listeners won any money and if they're willing to share it with the team.
06:50
Dom talks about his new car which he went all the way to Nottingham to buy yesterday. Chris thinks his choice of car is boring and has some more extravagant choices for him. Chris talks about a button in his car which just changes the sound the exhaust makes.
06:56
A listener has text in a photo of their lottery ticket with numbers very close to the winning numbers. Aled wonders how a listener could prove they had won to the team if they did want to share the money. Dave asks if anyone else thought they may have won the £56,000 from Tina's options.
07:00 Newsbeat07:04
Chris talks about an article in The Sun about celebrities buying luxury cars. The team talk about some luxury cars.
07:09 Music
Take That - Shine
Beyonce - Best Thing I Never Had
07:18
Dom talks about his dislike for sherry trifle, most boozy desserts or trifle in general. Chris pulled out of gatecrashing Loose Women yesterday, worried that he may have walked in during an inappropriate moment. He did meet Ice Cube yesterday though with Chris' dad meeting Ice Cube's. Chris had his first drink in 16 nights last night.
07:23 Celebrity Raspberry
Today's caller is Kelly from York. She has a croaky voice but she doesn't think it's sexy. She's a P.E. teacher, which isn't a real teacher. She teaches 'gender neutral' classes which Chris and Dave think would be a good name for a 1Xtra DJ. Chris and Dave talk about playing 'pirates' in P.E. Kelly guesses that the celebrity raspberry-blower is Simon Pegg, but she is wrong.
The team try to guess some clues. They find out he is English, doesn't have a name that starts between A and M, is over 30 and has never worked on a soap opera.
07:31 Newsbeat07:35
We Love Our Breakfast
07:36
Chris talks about the Musical Tastes game that they're playing today with Huw Stephens! Huw is one of Dave's favourite welsh people which also includes Kelly (not Aled) Jones.
07:39 Music
Nero - Promises
Katy Perry - Teenage Dreams
07:47
The team try to guess what song
Scouting For Girls
will be covering today in the Live Lounge.
07:51
Aled talks about his upcoming holidays to Greece with his boyfriend and friends. They talk about Aled's
previous holiday video with scantily clad boys smoking cigarettes
.
07:52 Music
Scouting for Girls - Love How It Hurts
07:56 Chris vents his frustration on someone at Radio 1 cutting off the very end of the Scouting for Girls track. Chris does a 'Huw Stephens is...' skit. Chris talks about the upcoming Musical Tastes game. The team try their welsh accents out.
08:00 Newsbeat08:05 Music
Chase & Status and Tinie Tempah - Hitz
Aloe Blacc - I Need A Dollar
08:13 Musical Tastes Game with Huw Stephens Part 1
(listen to this feature here)
Secret Love Track 1: George Michael - Outside
Secret Love Track 2: Atomic Kitten - Whole Again
Secret Love Track 3: Tom Jones - Help Yourself
Secret Love Track 4: Culture Beat - Mr Vain
Secret Love Track 5: Spice Girls - Mama
Secret Love Track 6: B.O.B. and Bruno Mars - Nothin' On You
08:20 Musical Tastes Game Part 1 Answers
Dom loves Outside by George Michael
Tina loves Whole Again by Atomic Kitten
Chris loves Help Yourself by Tom Jones
Aled loves Mr Vain by Culture Beat
Dave loves Mama by the Spice Girls
Huw loves Nothin' On You by B.O.B. and Bruno Mars
08:30 Newsbeat08:34 Music
Jessie J - Nobody's Perfect
Bruno Mars - The Lazy Song
08:43 Musical Tastes Game with Huw Stephens Part 2
(listen to this feature here)
Secret Hate Track 1: Madonna - Ray Of Light
Secret Hate Track 2: Arctic Monkeys - Brianstorm
Secret Hate Track 3: Missy Elliot - Get Ur Freak On
Secret Hate Track 4: Blur - Coffee And TV
Secret Hate Track 5: Kings of Leon - Back Down South
Secret Hate Track 6: Friendly Fires - Jump In The Pool
08:52 Musical Tastes Game Part 2 Answers
Tina hates Ray Of Light by Madonna
Dom hates Brianstorm by Arctic Monkeys
Dave hates Get Ur Freak On by Missy Elliot
Aled hates Coffee And TV by Blur
Huw hates Back Down South by Kings of Leon
Chris hates Jump in the Pool by Friendly Fires
09:03
Huw talks about the stage he is hosting at Latitude festival this weekend and some of the obscure band names appearing. Chris and Dave have a few to add to the list.
09:06 Dave's Tedious Link
Jamiroquai - Little L
09:12
Chris and Dave have got some more band names for Huw.
09:13
Chris decides to try and freak out some dogs and cats by playing sound effects. Chris talks about the calendar reminder on his phone. Some listeners text in responding to the dog and cat sound effects.
09:20 Music
Six D - Best Damn Night
Swedish House Mafia - Save The World
09:27
Chris is getting his head shaved very short today. Aled has had a haircut and Tina had colour put in. Chris asks Tina if she's ever gone blond, she hasn't but Dom did go red when he started losing his hair. Chris thinks Dave should shave his head and do it on air tomorrow.
09:32 Newsbeat09:35
Chris still wants Dave to shave his head but he's reluctant to try it.
09:38 Music
Jason Derulo - Don't Wanna Go Home
Ed Sheeran - The A Team
09:46
Chris has found the clip of Greg James singing with autotune and also Aled.
09:48 Carpark Catchphrase
Aled records himself singing 'I don't do that' into Chris' autotune app. Roy has been DJ'ing with Vato Gonzales. Vato says Roy has got some 'riddim'. Roy sings Badman Riddim (
listen to this here
).
On Line 1 is contestant number 1, who is Natasha from Luton. Natasha stayed in and watched Hot Fuzz, but not on ITV 2 surprisingly. On Line 2 is contestant number 2, who is Gina from Flitwick. Gina is a chef at Flitwick Manor, Chris tries to look it up but Aled can only find the graveyard.
Carpark Catchphrase 1
: Mr Fish is doing research into biscuits, specifcially american biscuits. He is testing their strength. Natasha beeps in with "that's how the cookie crumbles", which is correct.
Carpark Catchphrase 2
: Mr Fish is in Weston-Super-Mare playing Hide and Seek with Hussein Bolt. He's surprised at how bad Ussein is at it and because he's so tall he can see his head. Mr Fish thinks he's rubbish at hiding but he can run brilliantly. Natasha beeps in with "You can run but you can't hide" which is correct making her the winner!
10:00 End of the show
Rich Brown
@richbrown