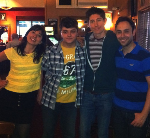 - Sat Jul 16, 2011 4:35 pm
#444386
Listen to the whole show here
(thanks to ianpwilliams).
06:30 Tuesday Cheesy Song06:33
Chris greets everyone with 'Ahwooha'. Chris is on day sixteen off the drink. He talks about his day yesterday; talking about Kate Thornton getting kicked from Loose Women, who's office is next door to
Quiz Night's
at the studio. Chris thinks they're nuts to get rid of her. Chris talks about the natural rise and fall of audience figures; the show is about to lose half a million listeners because of the school holidays, when listeners sleep in. Chris wants to gatecrash Loose Women today wearing a 'Save Kate' T-shirt. Dave thinks the seating on Loose Women is awkward. Aled has never seen it before. Chris thinks that if someone's sleeping pattern is so bad that they miss Loose Women, they need to sort it out. Chris talks to Tina about her sleeping pattern. Someone texts in to say Loose Women have Cliff Richard on today so Chris suggests he gatecrash with his mum, who loves Cliff. Chris does another 'Scottish is...' skit for Loose Women.
06:45
Chris talks about the
Quiz Night
recording from yesterday which included Keith Lemon, David Hasselhof and his daughters which was crazy. Dave asks if the first show, airing this Friday, is the one the team watched, which it is. Dave asks if they've edited out the instance where Dave stood up to go to the toilet and the studio lights failed soon after. Dave explains how an hour and a half is too long to go without using the toilet. Chris just thinks he sounds old.
06:49
Chris moves the focus back to the radio show and talks about what's coming up today. He brings up how playing The Saturdays live from T in the Park yesterday was a mistake.
06:51
Dom says he went to Enfield yesterday to look at a new car. Chris can't believe Dom used to have a convertible. The team talk about the ideal car for Dom, perhaps a little outside his budget. Chris talks about his experience of car shopping with his dad. Dom thinks cars are too expensive. Chris starts suggesting cars again for Dom, including Aled's Phantom.
06:59
The team talk about Penn and Teller Fool Us which Dom does the voiceover for. Chris says he tried to shoehorn Jonathon Ross' line 'that's a great sound, isn't it?' in to his Quiz Night recording but thinks it may be too late for the cut. Some listeners text in, trying to sell their cars to Dom.
07:02
Aled is trying to get the breakfast order and has been trying to since before the show. Chris tries to guess what the team will order. Chris is going back on the drink (tonight).
07:04 Newsbeat07:08
Some listeners are still texting in photos of their cars for sale. Someone sent in a Bugatti Veyron, a £1million car which Dave passed on the motorway once. Chris suggests trying to blag a budget car from Top Gear or a motor bike. Dom says he once drove into a hedge on a motorbike; which leads to the story of how Chris crashed a scooter on wet leaves seconds after getting it.
07:12 Music
Lady Gaga - Edge of Glory
Calvin Harris and Kelis - Bounce
07:20
Aled is doing his first silent disco this weekend. Aled is up against a 'cool DJ'; the listeners can choose who to listen to. Dave went to one on his own at Glastonbury.
07:22
Celebrity Raspberry
Today's caller is Chris Whiteman from London but originally from Dorset. Chris works in IT but stresses he isn't a stereotype IT worker... he recently went on holiday to Marbeya. Chris tries to get Tina's attention but Chris thinks he hasn't a chance because he isn't in JLS. Chris recently went to watch Essex Polo with some high-brow celebrities. Chris guesses Russell Brand but he is wrong.
07:28
The team try to guess some clues on who the Celebrity Raspberry blower is. He is a comedic actor, hasn't been in to the show in the last six months, is married and isn't a Northerner.
07:30 Newsbeat
07:34 Chris thinks they may run out of time for the team's night out with Adele. Chris brings Fake Adele back for a chat about a night out.
07:38 Music
Rihanna - California King Bed
JLS and Dev - She Makes Me Wanna
07:46 Rob DJ's Monday Night Pub Quiz
The current scores are; in last place Dom, with 37 points; third is Tina with 39 points; in second place is Chris with 41 points and in first place is Dave with 42 points.
Question 1: What is the name of Derek Trotter's local?
Question 2: What is held annually in Pilton, Somerset?
Question 3: A koala bear eats leaves from which type of tree?
Question 4: Everyone has a mobile phone but what does the acronym SIM stand for?
Question 5: Blend Well Annual Scantling is an anagram of which sporting club?
Aled gives a clue to Question 4 revealing the S stands for Subscriber.
Aled gives a clue to Question 5 revealing the sport in question to be Tennis.

07:56 Music
Magnetic Man and P Money - Anthemic
08:00 Newsbeat08:04 Rob DJ's Monday Night Pub Quiz Answers
Answer 1: The Nag's Head. Dave and Dom got it right; so did Rich from Swansea who text in.
Answer 2: Glastonbury. Everyone got it right; so did Ben from Worcester who text in.
Answer 3: Eucalyptus. Dom and Dave got it right; so did Simon from Darlington who text in.
Answer 4: Subscriber Identity Module. Tina got right, so did Mike from North Wales who text in.
Answer 5: All England Lawn Tennis Club. Everyone got it right; so did Emma from Gateshead who text in.
Aled offers a specialist round next week; Chris chooses jam jingle packages from the late 80s and early 90s; Dom chooses family names; Tina's is pet names of which she has one; Dave chooses British cities or motorway service stations on the M6.
The new scores are; Dom in last place with 41 points; Tina in third place with 42 points; Chris is second with 43 and Dave is first with 46 points. Dom thinks its tight at the bottom now.
08:13 Music
Rizzle Kicks - Down With The Trumpets
Adele - Set Fire To The Rain
08:21
Chris got measured yesterday at the gym. He is bemused but happy at the results. Chris reckons himself a cub now not a bear; Chris, Dave and Aled talk about 'bears' and 'cubs'. Chris has lost an inch and half a stone.
08:26
Aled mentions that a company has sent in some cupcakes for the team. Despite his positive weight loss chat, Chris is very tempted to eat one. Tina has had one. Aled wants to help Chris overcome the temptation. Dave comes up with punching Chris every time he tries to eat the cake. He says he wants to 'punch him thin'.
08:30
Newsbeat
08:34
Chris says that the guy who made the cakes makes shoes which he doesn't think is a good combination. One listener has text in a photo of his 'ripped' body which Aled is liking. Dom reads out a text supporting the 'punch you thin' theory. Chris reads out some more texts from people supporting him.
08:38
Chris talks about watching Foo Fighters from T in the Park over the weekend.
08:39 Music
Foo Fighters - All My Life (Live from T in the Park)
Snoop Dogg and T-Pain - Boom
08:48
The team have been talking about the big EuroMillions draw tonight for £166,000,000. Dom wants to buy a ticket so Chris suggests sharing a ticket. Dave suggests a syndicate but Dom doesn't want to share the big money between the entire team. The team think he is greedy but Dom tries to defend himself. Aled comes up with the idea of going into a syndicate with the listeners (of which there are 8 million). The team decide to go into a syndicate, but Tina and Dave aren't happy with Chris buying extra tickets for himself and Dom. Dom has some figures on how much £166,000,000 is. Aled has decided to make a Twitter syndicate. The team carry on debating syndicate politics. Chris comes up with some ideas for when he and Dom win in their own syndicate.
09:01
Dom highlights the problem of Euromillions is that it's open to all of Europe. Chris says it's funny how the UK is happy to be part of Europe when there's money to win. Dave thinks EuroMillions is the only benefit of being part of Europe. Chris warns the team that they better all be in work tomorrow.
09:03
Dave's Tedious Link
House of Pain - Jump Around
09:08
Some listeners have text in about Euromillions tickets costing more in the UK. Chris is questioning Tina holding all the money in her kitty. Chris and Dave want a part of Tina's kitty. Matthew Munnery (
https://twitter.com/#!/mjmunnery
) on Twitter has promised to give some of his winnings to the team, if he wins. Chris appeals to the listeners that if any of them win that they give him a share. Dom and Dave also decide to make an appeal.
09:13
Aled's Twitter syndicate is looking promising. Chris opens up a syndicate to the texts which will probably be thousands of people. Dave says Tina's kitty will be big if they go buy that many tickets. Dave does some maths to work out how much the team are going to win in their syndicates.
09:17
Music
Emeli Sande - Heaven
Wretch 32 and Example - Unorthodox
09:24
The team are working out how to spend their winnings. Chris has picked out a modest mansion (with massive columns) for Dom. The team talk about a pledge which Aled has found where rich people give away half their earnings to charity. Chris thinks Tina might forget/choose not to buy the tickets. Aled doesn't trust anyone else in the team to go buy the tickets. Dave isn't happy with Aled's Twitter syndicate.
09:30 Newsbeat
09:34 Some listeners have text in to say how they'd spend their winnings.
09:36 Music
Ke$ha - We R Who We R
Foster the People - Pumped Up Kicks
09:44
Aled is having some problems with the phone system in trying togetting contestants on for Carpark Catchphrase.
09:45 Carpark Catchphrase
Roy Walker had Tinchy Stryder, Dappy, Rochelle from The Saturdays and Pixie Lott over for tea last night. Holly Willoughby ran him a bath too. Roy asks if Chris some random questions. On Line 1 is contestant number 1, which is James from Doncaster. Chris asks if James wants a share of their EuroMillions win, all he wants is enough to cover his rent. On Line 2 is contestant number 2, which is Natasha from Luton. Natasha is nervous about being on the show.
Carpark Catchphrase 1
: Mr Fish has been working on an ecohouse running on wind power for Jeremy Clarkson. Jeremy appreciates the work but doesn't like the look of the house so asks Mr Fish to start again with the plans. Mr Fish says he's done all his drawings and would need to go back to his plans. Natasha beeps in first with 'Back to the drawing board' which is correct!
Carpark Catchphrase 2
: Mr Fish is helping run a party for a small firm of solicitors in Basingstoke. They've hired a special act called Tony Time who has special wings which help him fly. Tony says he won't perform until the party livens up. Natasha beeps in again with 'Time flies when you're having fun' which is correct, making her the winner!
9:58
The team talk about Fearne Cotton's nightly activities.
10:00 End of the show
Rich Brown
@richbrown