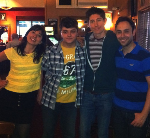 - Sat Jul 09, 2011 4:33 pm
#443853
06:33 Wednesday Cheesy Song06:36 Opening Link
Chris greets everyone good morning and already there are mic problems. It turns out to be Dom's mic even though he just read the news without any problems. The problem sounds like Dom is outside of the roof in the wind. Dave suggests it would be good to use when reading the weather.
06:38
Chris talks about his recording of
Quiz Night
last night which all the team, minus Matt Fincham, attended. Dom and Dave met at the local pub very early on to make sure they made their call time. The rest of the team got there a bit later. Aled is off the drink because he is trying to lose weight for his beach holiday in August. Chris is on Day 10 of no drink. Tina thinks ten days is impressive. Dom appears to have fixed his microphone by hitting it. Chris talks about how someone told him that a month off drink is when things start getting better.
06:44
Chris talks about his naps between rehearsals for Quiz Night. Dave says he thinks he managed to power-nap this week. Chris talks about the other celebrities he meets whilst recording at
The London Studios
which include the Loose Women, Peter Andre and Keith Lemon. Aled shares how, despite loving attention, gets embarrassed when singled out at the Quiz Night recordings. The team talk about
America Ferrera
who plays Ugly Betty but is neither ugly nor Betty.
06:49
Chris talks about how his life is not very rock and roll after he gets home. The team talk about crackers. Whilst putting the bins out last night, Chris slipped and fell on his back. Aled checks it out to find a big bruise.
06:54
Chris has had a lot of positive comments about
Adele's interview yesterday
and her meeting with
Fake Adele
. Dom is still relieved from finding out Aled and Matt wound him up over Adele being annoyed over Fake Adele. There is a video of the two meeting online. Dom thinks its his best impression, next to Jools Holland. Aled shows a
photo
which
someone sent in
of Dom's face on Adele's body which is now the new profile photo for Fake Adele.
06:57
Back to today's show,
Eddie Izzard
is coming in to talk about his
Laughs in the Park comedy gig at St Albans
. Aled doesn't know what Eddie is like because of a less than positive encounter with him when he was coming out of an airplane toilet.
07:00
Dom talks about how at a previous radio job, whilst reading the news, a DJ would make sound effects with his mouth in between news stories. Dave wants to try it out during the sports news.
07:01 Newsbeat
with sound effects
07:06
The team think the week is going by quick. Chris asks what Eddie Izzard is in to promote which is his comedy festival at St Albans and a three month run of French comedy gigs which he has just completed. Chris and Dom have a man-crush on him. Chris talks about Eddie's early gigs on video which Chris bought and comments on how his transvestite act has grown over time. Dave defines the difference between a stalker and a keen fan...
07:10
Dave wants to learn some French. Chris thinks Eddie Izzard looks like Keith Lemon in one of his DVD covers. Dave thinks he looks like Chris in one of his promotional photos. Chris tries to find out if he's tweeted this morning yet, he has but only trying to sell tickets.
07:13 Music
Rihanna and Drake - What's My Name?
Example - Changed The Way You Kissed Me
07:21
Celebrity Raspberry
Gavin is today's contestant who is shocked to be on the show. Gavin is from Essex and is a car salesman. Gavin guesses Dean Gaffney but he is wrong (because it's
Celebrity
Raspberry).
07:29
The team try to guess clues on who the Celebrity Raspberry-blower is. The celebrity has done comedy-acting, is famous for something else, is not under the age of 30 but hasn't done stand-up comedy. Chris thinks he knows who it is so Aled gives a bonus clue. Aled asks Chris how cool he thinks the celebrity is, Chris thinks 7 out of 10, so Aled thinks he must have it wrong. Aled thinks this celebrity is very cool but also thinks Dean Gaffney is so he retracts the question.
07:32 Newsbeat07:36
Chris is going to the gym today for the first time in a week. Chris is on two shows today; Quiz Night and also as a guest on
Alan Carr Chatty Man
with Eddie Izzard who has just arrived. Dom has already chatted with Eddie, Chris suspects him of trying to blag tickets to the festival in St Albans. Chris wants the team to get tickets to go at some point.
07:38
Someone has sent a photo of a flyer in to Chris which is of Michael Winslow performing in Swindon. The team speculate if Eddie knows Steve Guttenberg. The team continue to plan on getting tickets to Eddie's comedy festival.
07:41
Chris comments on Eddie's itinerary which is taking him to the Hollywood Bowl in Los Angeles in the middle of a string of UK gigs. Dave thinks this will probably upset his hardcore fans who follow him everywhere.
07:44 Music
Foster The People - Pumped Up Kicks
Cher Lloyd - Swagger Jagger
07:51
Chris asks if Swagger Jagger has grown on anyone yet. Aled loves it but the texts are of quite a different opinion. Aled talks about his DJ sets.
07:53
Chris checks in on how
Fake Adele is doing on Twitter
. She already has over 5,000 followers. Dave likes the profile photo. There are already some fake Fake Adele accounts. Chris wants the team to be able to post to the account. Aled can install it on their 'modern phones' but not for Dom who has a 'catching-up phone'. The team talk about their upcoming outing with Adele. Adele gave Chris her email address which he thinks is either very modern or a step-down from her phone number.
07:57 Music
Olly Murs - Thinking of Me
08:01
Chris recounts when himself and Dave joined Olly Murs on stage to sing at Radio 1's Big Weekend.
08:02 Newsbeat08:06 Music
Katy Perry - Last Friday Night (t.g.i.f.)
08:10 Eddie Izzard
enters the studio!
(listen to the interview here)
Chris greets Eddie in French. Eddie is wearing his sunglasses and thinks it looks stupid but very cool. Eddie performed on the roof of the De La Warr Pavillion last night even though it was raining. Chris asks him about performing in both English and French intermittently. Dave asks how he writes material for the French. Eddie explains how he avoids cultural references that wouldn't work such as talking about CurlyWurlys but managed to get jokes about George Formby to work. Chris remembers Eddie talking about performing comedy gigs in France back on the Afternoon Show. Eddie shares a story about doing a Sean Connery impression which didn't work in France because he is dubbed there. Eddie talks about the French film
OSS 117
.
08:16
Eddie talks about his love for people. Eddie says he eventually wants to do his stand-up act in German, Russian and Arabic. Chris asks him why he wants to keep on doing so many things. Chris shares how whilst in the shower he can muse about life with more focus and clarity.
08:21
Chris talks to Eddie about his
Laughs in the Park festival in St Albans
. Chris wants to go because Dom went last year and enjoyed. Chris wants to bring a sofa to watch the gig on the roof but doesn't want to sit in the rain.
08:26
Chris talks about Eddie's acting projects. Eddie is starring in
Lost Christmas on the BBC
and
Treasure Island on Sky
, which are both coming out at the end of the year. Chris talks to Eddie about making an Oceans Eleven sequel, Oceans Ten. Chris praises Eddie for his intellectual influence on the show.
08:29
Dave gets Eddie to ask Chris how he hurt his back. Eddie talks bout Krakatoa. Chris thinks he and Eddie should meet up later in the day, maybe for a recording of another show. Chris says he wants a French-off with Alan Carr. Chris and Dave talk some French with Eddie.
08:34
Eddie tries to convince Dom to introduce an act at his comedy gig in St Albans. Dom nervously agrees. Chris questions Dom's celebrity influence in St Albans. Eddie explains why he chose St Albans to hold the gig and then tests Chris' sound effects. Chris and Eddie talk about bad introductions at gigs.
08:39
Chris talks about the story of
Vernon Kay going off mic
at the big reveal of the introduction of Skating with the Stars.
08:41
Eddie asks Chris about his upbringing in Leeds. Aled reminds Chris that they are very late for the news but Eddie has his theory on why making the news late builds anticipation.
08:43
Newsbeat08:46 Music
The Wanted - Glad You Came
08:49
Eddie Izzard is back. Chris asks what Eddie's upcoming plans are. Eddie talks about working on Treasure Island. Chris, Dave and Eddie talk about being a criminal and owning a big pirate ship.
08:53
Chris brings up how he missed hooking up with Eddie because he was too polite. Chris tries some foley-ing and goes back to talking about Treasure Island. Eddie talks about the pirate crutch he used when filming.
08:59
Chris and Dave say goodbye to Eddie, multilingually but then go on to talk about Eddie's comedy festival and talk about the fireworks, which Eddie is very excited about.
09:02
Dom demos his stand-up routine for Eddie. Eddie has some points to help Dom. Dave tries out a joke that he thinks works in both French and English, but Eddie disagrees. They talk about Chris' clip of the Royal Variety Show intro music and if Eddie wants to use it, but he'd rather die.
09:06
Chris says goodbye to Eddie again.
09:07 Music
David Guetta, Nicki Minaj and Flo Rida - Where Them Girls At
09:11
Chris compliments Eddie on his Treasure Island look and then says goodbye to Eddie, again. Chris asks Dom if he secured tickets to the Laughs in the Park gig but it turns out he forgot. Eddie is in the toilet so the team coax him to go and ask him for tickets. The team discuss whether Dom should be involved at the comedy gig. Aled thinks he'll embarrass himself. Dom is back from chasing Eddie for tickets and has good news.
09:17 Dave's Tedious Link
Spiller and Sophie Ellis-Bextor - Groovejet (If This Ain't Love)
09:22
Aled questions the seamless-ness of the Tedious Link.
09:25
Chris still wants Dom to be part of the Laughs in the Park gig. Dom tries to improve on his Muller'd joke. Aled offers him his Cheryl Cole joke. Some listeners text in some awful jokes for Dom.
09:33 Newsbeat09:37 Music
Chase & Status and Tinie Tempah - Hitz
Aloe Blacc - I Need A Dollar
09:45 Carpark Catchphrase
Roy Walker is wondering what T in the Park is. On Line 1 is Lorna from Leicester who has been sorting out a trip to London for some questionable work experience. On Line 2 is James from Doncaster who has been sitting out in the sun without any cream on, not even salad cream.
Carpark catchphrase 1
: Mr Fish in Peterborough readying for a parachute jump to cure his fear of spiders. The instructor has told him the best way to land is to be running. James beeps in first with the correct answer 'Hit the ground running'!
Carpark catchphrase 2
: Mr Fish is annoyed that he lost money over the David Haye fight so he's gone back to the bookies to try win money on the horses. However if he gets caught there during office hours he'll be in a lot of trouble. Lorna beeps in first with the answer 'Safe bet' but it's not the right answer. Mr Fish has had some sneaky advice off a friend who has told him to go over the road and hide his betting slips in a hedge. Lorna beeps in again with 'Hedge your bets' which is the right answer! It's one a piece so it's all to play for.
Carpark catchphrase 3
: Mr and Mrs Fish are in Transylvania near the home of the Cheeky Girls and Count Dracula. Count Dracula is quite nice, not very scary but a bit of a pest. Mr Fish sees Count Dracula approaching the house so hides under the window, pretending to be out. Mrs Fish sees him and asks him what he's doing, he replies he's out because of the Count. James beeps in with the answer 'Out for the count' which is correct making him the winner!
The team have words of advice for Lorna on her trip to London and say goodbye. James is back tomorrow as the new champion of Carpark Catchphrase.
10:00 End of the show
Rich Brown
@richbrown