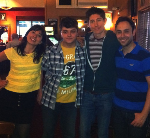 - Thu Jul 07, 2011 9:22 pm
#443704
06:30
-
Tuesday Cheesy Song06:32
Opening Link
Chris welcomes everyone to The Chris Moyles Show! Chris is on day 9 'off the drink'. He thinks it makes him sound like a recovering alcoholic. Chris went to see Take That last night, he decided to drive there and managed to get parked and inside without any problems, unlike Aled. Chris met a few of the boys from Take That backstage. Chris got a special pass to allow him to park underneath Wembley stadium but couldn't find any help getting back to the car-park. He then got stuck in traffic, finally got home very late and then couldn't sleep. Chris talks about his
#happynow campaign
which didn't work.
Chris says he met JLS who left early like most people who left before the last song finished. Chris also confesses to eating some leftover pizza from the people sitting next to him. The rest of the team talk about what they got up to last night. Aled went out for chicken.
06:48
Chris' microphone sounds distorted to some listeners but the mics are working today. Chris plays a clip of
Adele laughing
and thought it was Fake Adele. Tina thinks it is the fake. Fake Adele will be meeting the real Adele who is on the show today. Chris says he forgot the lyrics to the song parody he has written for her. Dave has also written one but thinks it might be too weird. Chris correctly guesses that Dave's parody is called 'Set Fire to Lorraine'. Chris thinks it might need some work. Chris' parody song is set to '
Someone like you
' and is about drinking at a bar. Dave talks about his experience with bar toilets, which isn't sexy.
06:55
Adele is coming in after 8am but Chris says he'll believe it when it happens. It's Adele's first big interview since January... apart from Graham Norton. Chris asks Fake Adele who out of Take That she'd like to tickle. Dom and Tina have left the studio for news issues so Chris, Dave and Aled decide to hide from them. Matt texts Aled to confirm it's Adele's first big radio interview since January.
07:00
Chris ad libs a Coldplay parody.
07:01 Newsbeat07:04
Chris talks about
an app
, which Dom showed him, that transcribes what you dictate. Chris tries it out to some success. Chris talks about
another app
which translates text live from the camera. Dave thinks it's amazing. Dave's appearance on The Gadget Show was on yesterday at the same time as Chris' appearance on Top Gear. Aled is appearing on The Gadget Show next week. Coming up today, the team will be following up Tina's Summer of Sport from yesterday which will announce a winner to go with Tina and Vernon Kay to Silverstone on Thursday.
07:14
Music
Coldplay - Every Teardrop is a Waterfall
Cee Lo Gren - I Want You (Hold on to Love)
07:22
The team talk about an incident at Radio 1's Big Weekend 2006 when someone said on talk-back "Here comes Fatty" as Cee Lo Green was walking on to stage.
07:24
Chris talks about his music-buying habits.
07:27 Celebrity Raspberry
The team try come up with a phrase for people to answer the phone with as part of Tina's Summer of Sport. They settle on 'Beep Beep Tina, (neowww)'. Aled tries the phrase out 'Beep Beep Tina, Meow'. Sam from Liverpool is today's Celebrity Raspberry caller and tries out the phrase, but also says 'meow'. Sam guesses that the Celebrity Raspberry-blower is Chris Martin but he is wrong.
The team try to guess some clues. The Celebrity Raspberry-blower is a man, is not a singer but is an actor from British television.
07:34
Aled reveals 51,000 people entered Tina's Summer of Sport yesterday, 46,000 of those during the show yesterday.
07:34
Newsbeat07:38
Some listeners are complaining that Chris hasn't played a Cher song over the Newsbeat jingle yet, which he rectifies with Walking in Memphis
07:39
Tina's Summer of Sport
(
Listen to this feature here
)
Chris reveals the answer to yesterday's question as Jake Humphrey.
07:41
Music
Mann, Snoop Dogg and Iyaz - The Mack
DJ Fresh and Sian Evans - Louder
07:48
Chris thinks DJ Fresh sounds like a cheesy 80's rapper name. Adele has arrived at Radio 1. Chris says she's gone all American. Matt Fincham is trying to act smooth while briefing her in the Live Lounge.
07:51
Tina's Summer of Sport cont.
(
Listen to this feature here
)
The team call someone back randomly. The first caller is Avian from Coventry who answers the phone 'Beep Beep Tina'. Chris pushes him for a 'neowww'. Chris reveals that Avian can not only visit Silverstone on Thursday with Tina and Vernon Kay but can also stay from Thursday to Sunday and watch the F1 on Sunday.
08:00
Matt Fincham is supposedly chatting Adele up in the Live Lounge. Aled says he's warming her up some 'perving'.
08:01
Newsbeat08:05
Chris talks about how the UK gets excited over relatively warm weather when the show is broadcast around the world to places with much hotter weather.
08:07 Music
JLS and Dev - She Makes Me Wanna
Kaiser Chiefs - Little Shocks
08:15
Adele
enters the studio! (
Listen to the interview here.
)
Adele has been in the UK for a few weeks and is here for a few weeks more. She talks about her recent laryngitis and vocal chord problems. But she's much better now. Adele is going to the iTunes Festival but Chris finds it hard to believe she's only being paid with an iPod.
08:17
Chris asks how Adele is dealing with her sudden rise in international fame. Adele says she brings her friends along with her on tour and writes down a diary of every gig and appearance she makes. Some of her highlights have been Saturday Night Live and
The Royal Variety Show
. Chris comments on Jamie Cullum's height standing next to Adele at The Royal Variety Show. She also loved meeting Dappy from N Dubz.
08:23
Chris talks about
Adele's Brit Awards performance
. Chris tries to get Adele to cry again by playing with her 'emootions'. Adele wonders why Chris didn't get invited to the Brits, but Aled did who she remembers meeting. Adele says she saw Mumford and Sons at the Brits so Chris and Dave break into their Mumford and Sons Removals skit.
08:28
Chris talks about his appearance on 'Who Do You Think You Are?'. Chris asks Adele if they can do a duet for his new parody album. Chris tries to convince Adele to sing his parody of 'Someone Like You' but Adele is dubious. Dave brings up his parody of 'Set Fire to the Rain'. Chris talks to Adele about his gold-selling Parody album and how he was elligible for a Brit award.
08:32
Chris wants Adele to meet Fake Adele. Adele reveals that she loves listening to Dom's impression. Dom is relieved after Aled told him she was annoyed about it.
08:35
Newsbeat08:39
Music
Adele - Set Fire to the Rain
08:44
Dave shows off his parody 'Set Fire to Lorraine' to Adele.
08:48
Adele meets Fake Adele.
08:53
Adele talks about the rest of her day which she is spending see her friends' new dog and then has another interview. Chris talks to Adele about Twitter. Adele doesn't personally use it but does check celebrity profiles. She thinks Example is the funniest person on there which Chris doesn't take to. Adele says she doesn't feel the need to use Twitter personally.
08:57
Chris comes up with the idea of setting up a
Fake Adele Twitter account
. Aled is on it. Chris tries to blag his way as a backing singer for Adele's UK performances. Adele says she's trying to be a vegetarian but she's only been one for seven hours. Adele asks what Chris is up to today. He talks about his television series and his new Radio 1 contract. Someone who works on Quiz Night has been mocking Chris for never having a proper job but Adele has had a few. Adele and Chris talk about denim, coat-hangers and OCD when cleaning.
09:03
Chris and Adele try to arrange a night out. Adele wants to go to a foam party, Chris isn't interested but Aled is. Dave recommends wearing a wetsuit. Chris suggests a karaoke night and Adele should sing a song with very little singing so to rest her voice.
09:05
Adele decides to extend her stay for another half hour. Chris asks her about Team Adele being featured as the biggest influence in British music according to The Guardian. Adele talks football and dogs. One of them is called Louis which leads on to a conversation about Louis Walsh. Chris reads out some texts commenting on the interview some of which are very keen. Someone texts in a photo of their tin cupboard arranged like Chris'. Aled tries to come up with a way Adele could use Twitter like a normal person and has set up the Fake Adele account which the real Adele endorses.
09:11 Dave's Tedious Link
Razor Light - Golden Touch
09:16
Chris has had a lot of texts from his friends praising today's interview. Adele says she doesn't get a lot of texts because she's a bad replier. Chris talks about people who expect a reply to even the most trivial texts.
09:18
It's time to send the
first tweet
from the Fake Adele account. Adele talks about a fake impersonator on Twitter which Chris and Dave relates to. The first tweet is sent.
09:22
Chris plays Adele a few tracks from
The Parody Album
as well as others. Chris wants to do a duet with Fake Adele using his and Dave's parody tracks.
09:26
Chris goes back to arranging their night out with Adele, Example and Fake Adele along with other Radio 1 personalities and maybe even some muggles. Chris has some tips for Adele's live performances. The conversation turns to seafood.
09:34
Chris and Adele talk about some celebrities they could introduce to each other.
09:35
Adele says goodbye to the team and Fake Adele.
09:37
Newsbeat09:40
Chris talks about tattoos. Dave talks about some of the games they arranged but never got to play with Adele. Dom shares how nervous he was because of Aled winding him up over Adele not liking Fake Adele.
09:44 Music
Chris Moyles - Somerset Boy
Hard-fi - Good for Nothing
09:55
Chris has a text from someone who let him out into the traffic last night.
09:55 Carpark Catchphrase
Roy Walker expresses his love for Tuesdays and Adele but thinks she talks a bit rough. Time for Carpark Catchphrase... on Line 1 is Lorna from Leicester and on Line 2 is James from Doncaster. He posts charity bags through doors. There's no time to play the game today so it's postponed until tomorrow.
10:00 End of the show
Last edited by
richbrown
on Sat Jul 16, 2011 5:35 pm, edited 4 times in total.
Rich Brown
@richbrown