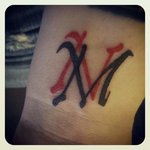 - Fri Jun 24, 2011 12:07 pm
#442093
6.30am
Show starts with the Friday cheesy song
6.33am
The team discuss today's weather. They read out a text accusing Chris of being late (he isn't), then some texts about what listeners are doing today.
6.39am
Chris says that he went to see the Kaiser Chiefs in concert last night.
6.41am
Chris was filming fake movie trailers for Quiz Night yesterday. He says that they were using the same house they used for a sketch last series, where he had man flu and was snapped by the paparazzi who took his dishevelled appearance to mean he was having a breakdown.
6.45am
Tina tells us that she was at Richard Branson's pre-Wimbledon party last night, but she didn't see Richard himself. Dominic, Dave and Aled went to a leaving party for Karen from the Radio 1 press office.
6.50am
Chris plays the 'A Team' theme music and they discuss the show and the fact that no character ever died. They compare the section of the show where the Team build an armoured vehicle to 'Pimp My Ride'.
6.52am
A mention of Aled's 'ideas meeting' with members of the chrismoyles.net forum, which is happening today. Chris says they will talk about this more later.
6.55am
Mention of Dom and Matt's interview with Cameron Diaz, which will be broadcast later in the show. Dom comments that Matt has not been the same since meeting Cameron. It is revealed that Dom offered her his phone number during the course of the interview. Dom and Tina say they would be willing to kiss Cameron if offered, but Aled strangely declines.
6.58am
Chris says that Vernon will be in later for a soundclash with Chris.
7.00am
News with Dominic and Tina
7.03am
More chat about Dom's interview with Cameron Diaz and more listener texts.
7.07am
Lady Gaga - Edge Of Glory
7.11am
Pitbull - Give Me Everything
7.16am
Celebrity Raspberry intro. Before the caller is introduced, the team divert to discuss Pitbull's lyrics and whether 'kodak' rhymes with 'kodak' (Dom insists it does).
7.18am
Today's caller is Vicky from Aberdeen, who is an IT manager for an oil company. She correctly guesses the raspberry-blower to be Lily Allen.
7.28am
More discussion on the Pitbull rhyme. Chris suggests 'Kojak' as an alternative.
7.30am
News with Dominic and Tina
7.33am
Dom practises coming in at the right time on the new news bed.
7.36am
Coldplay - Every Teardrop Is A Waterfall
7.41am
The Vaccines - Post Breakup Sex
7.44am
Aled discusses his meeting with members of our forum. Chris comments that we "love to bitch" on the site (I can neither confirm nor deny this). Aled tells us the names of the participants (Dimtimjim, Chrysostom, Zoot, Richbrown, Nisha and Shamrock Student). Dave asks if they are members who just abuse the show. Aled explains the ideas thread (
link
) and how they were selected. Chris comments that he doesn't mind if people who criticise the show are participating. Aled then mentions Yudster's custard pie ideas, and Chris reads out some of the thread. Texts come in in support for Zoot.
7.55am
McFly - Star Girl
7.58am
Chris comments that Tina has put some makeup on and now looks "less chavvy".
8.00am
News with Dominic and Tina
8.04am
Chris recommends that new people come and join us at the forum here as we're so accommodating to newcomers. He mentions suggestions that have been put in to bring back Viaduct.
8.07am
Dave asks why the Cher news bed doesn't feature 'If I Could Turn Back Time'.
8.08am
Calvin Harris - Bounce
8.12am
Tinie Tempah - Frisky
8.16am
Dom's interview with Cameron Diaz. Highlights include his game of 'snowboarding or no boarding', where he asked Cameron to identify snowboarding terms. There is much discussion of his invented term "smelly finger".
8.39am
News with Dominic and Tina
8.43am
The team try to get "smelly finger" trending on Twitter.
8.45am
Example - Changed The Way You Kiss Me
8.49am
Adele - Set Fire To The Rain
8.53am
Vernon arrives. They discuss the 1Extra Soundclash happening this weekend, which he is taking part in.
9.01am
Golden Hour begins
9.02am
Elvis vs JXL - A Little Less Conversation
9.06am
Energy 52 - Cafe Del Mar
9.10am
N.E.R.D. - Rock Star
9.15am
DB Boulevard - Point Of View
9.18am
Jennifer Lopez - Jenny From The Block
9.22am
Oasis - Stop Crying Your Heart Out
9.27am
Foo Fighters - All My Life
9.28am
Pink - Get This Party Started
9.29am
The Cheeky Girls - The Cheeky Song (Touch My Bum)
9.30am
The Golden Hour reveal - Vernon guesses 2004, Dom 2003, Tina 2001 and Dave 2002 - 2002 is correct.
9.33am
News with Dominic and Tina
9.36am
Chris and Vernon's Soundclash begins
9.37am
Benny Benassi - Satisfaction
(Vernon's choice)
9.40am
Duck Sauce - Barbra Streisand
(Chris' choice)
9.42am
Dizzee Rascal - Disco
(Vernon's choice)
9.46am
Calvin Harris - I'm Not Alone
(Chris' choice)
9.50am
The Killers - Mr Brightside
(Vernon's choice)
9.53am
The Prodigy - Omen
(Chris' choice)
9.56am
Eric Prydz - Pjanoo
(Vernon's choice)
10.00am
Handover with Fearne. She compliments Chris and Vernon on their mixing skills, and discusses Dom's Cameron Diaz interview.
Bas wrote:She's the Tina Daheley of chrismoyles.net
Missed any of Dave's Tedious Links? Catch up with my Tedious Links 2010-12 page here