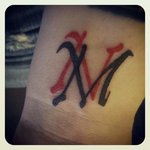 - Mon May 23, 2011 12:19 pm
#438880
6.30am
Show starts with the Friday cheesy song
6.33am
A brief clip of Village People - Go West bleeds through the Cheesy. Dom pronounces this "shameless promotion" on the part of Chris.
6.34am
Chris tells us that yesterday Go West reached no39 in the charts, before dropping to 41, then back up again, and then back down. Dom says that Davina McCall is, via Twitter, supporting his campaign to get Ronan Keating's Life Is A Rollercoaster back in the charts. Chris says that he received some tweets about Go West's chart progress, but then adds that he isn't sure if Go West is the Village People's best song; they then discuss the band's back catalogue.
6.35am
Life Is A Rollercoaster is at no86 in the charts. Chris reads out the songs that are the chart neighbours of Go West and Life Is A Rollercoaster.
6.40am
A brief recap of the loves/hates music game that led to the chart battle. The team discuss the different categories of music that iTunes compiles charts for - the Village People have been categorised as Dance, while Ronan Keating is in Rock.
6.42am
Aled talks about his gym session yesterday. Chris says he hasn't had a drink since last Sunday in Carlisle.
6.43am
The team discuss Tracy Chapman's resurgence into the charts. Chris also mentions that Life Is A Rollercoaster has been put back on Radio 2's playlist as a result of the campaign.
6.45am
Dom comments that this week has felt like a four-day week because of their trip to Carlisle. There's also another Bank Holiday coming up soon. Chris adds that it's Imaginary Martin's birthday too.
6.46am
Aled tells us what's coming up on today's show, including a Treasure Hunt that he's very excited about, but he can't reveal many details.
6.50am
Chris says that he's started watching V again, and has also been watching Lie To Me and The Walking Dead.
6.52am
Chris tells us that he made chili last night. He had planned on fajitas, but forgot to buy chicken because someone was standing in the way of the fridge at the supermarket. He put a photo of his chili on Twitter, and says that Jamie oliver tweeted him to say that it looked good. Dave asks why people now use the phrase "nom nom nom" when discussing food, and says that he finds it irritating. Chris proposes that he revives the expression "yum yum yum" instead.
6.55am
Texts are coming in saying that V has been cancelled. Chris is annoyed by this. Dave suggests that people should be able to find out in advance if a show will be cancelled, so that they'll know before they commit their time to watching it.
6.56am
More on the origin of "nom nom nom". Texts are suggesting it came from the Cookie Monster and the Lolcats (
http://www.icanhascheezburger.com
). Both of these are dismissed by the team. Another text suggests that the team are out of touch for not knowing the origin of the phrase. Chris tells Dave that he should create a Twitter hashtag to replace it; he says he'll think about it.
7.01am
News with Dominic and Tina
7.05am
Texts are saying that the word "nom" can now be used in place of "fit" to describe an attractive person. Chris suggests that people just shout "tuna pasta", in order to cut out the middleman. He and Dom roleplay a nightclub scene in order to try this out.
7.08am
Chris says he's changed his breakfast order as it's Friday. The team all tell us what they're having for breakfast, and Chris invites people to text in what they're having.
7.10am
Wretch32 - Traktor
7.15am
Olly Murs - tbc
7.18am
Chris reads out some breakfast texts.
7.21am
Celebrity Raspberry. Today's caller is Ryan from Manchester, who eats chocolate bars for breakfast. He incorrectly guesses that the raspberry-blower is Ke$ha.
7.32am
News with Dominic and Tina
7.36am
Aled explains the Treasure Hunt feature; now Sam has left, in order to give away the leftover Sam/Matt mugs from Celebrity Raspberry, they have been hidden somewhere in the UK, with clues being given on Facebook and Twitter.
7.42am
Swedish House Mafia - Save The World
7.46am
Jessie J - Nobody's Perfect
7.50am
Back to the Treasure Hunt; second and third clues are posted.
7.57am
McFly - Star Girl
8.01am
More Treasure Hunt; the final clue is posted.
8.04am
News with Dominic and Tina
8.09am
It is revealed that one of the Treasure Hunt clues was wrong, and specified Colchester instead of Chelmsford. However, the first mug has been found by Ian, who is a dentist.
8.17am
Lady Gaga - Born This Way (live from Carlisle)
- Bad Romance (live from Carlisle)
- Judas (live from Carlisle)
8.33am
Chris announces that all the Treasure Hunt mugs have now gone.
8.35am
News with Dominic and Tina
8.39am
Chase & Status - Time
8.44am
Aloe Blacc - I Need A Dollar
8.47am
Jake Humphrey is on the phone live from the Formula 1 race in Barcelona.
8.48am
The 'Funniest Bits' of Radio 1's Big weekend in Carlisle are played, including Will.I.Am of the Black Eyed Peas saying 'Newcastle' onstage and Tim Westwood forgetting the name of the town he's in.
8.51am
Formula 1 chat with Jake.
9.05am
The Golden Hour begins.
9.06am
Robbie Williams - Let Me Entertain You
9.11am
The Cardigans - My Favourite Game
9.15am
The Tamperer - Feel It
9.19am
Embrace - Come Back To What You Know
9.24am
Catatonia - Road Rage
9.25am
Cher - Believe
9.26am
Hole - Celebrity Skin
9.28am
The Beastie Boys - Intergalactic
9.31am
The Golden Hour reveal - Tina and Rick from Online guess 1997, while Dom and Dave go for 1998 - 1998 is correct.
9.32am
News with Dominic and Tina
9.37am
Naughty By Nature - OPP
(Dave's choice)
9.42am
Sugar Ray - Every Morning
(Matt's choice)
9.47am
U2 - Beautiful Day
(Tina's choice)
9.53am
The Beatles - Let It Be
(Aled's choice)
9.58am
Prince - 1999
(Dom's choice)
10.01am
Handover with Sara. She was at a charity do with the Arsenal first team last night. Chris says that he once went to an event there, with special guests Chas & Dave.
If you would like to download the full show then ianpwilliams has kindly uploaded it here: (link to come)
Bas wrote:She's the Tina Daheley of chrismoyles.net
Missed any of Dave's Tedious Links? Catch up with my Tedious Links 2010-12 page here