By
charla
- Wed Jun 20, 2007 4:18 pm
- Wed Jun 20, 2007 4:18 pm
#292703

Wednesday 20th June 2007
7:00 NEWSBEAT 1. Hello Goodbye- Here in Your Arms 2. Groove Armada feat. Mutya Buena Song 4 Mutya 7:30 NEWSBEAT 3. Editors- Smokers Outside the Hospital Doors 4. Nelly Furtado- Maneater 8:00 NEWSBEAT 5. Armand Van Helden - NYC Beat 6. Pink – Who Knew? 7. Kings of Leon- Fans 8:30 NEWSBEAT 8. Mark Ronson feat Lily Allen- Oh My God 9. Calvin Harris- The Girls 10. Kelly Rowland feat Eve- Like This 9:00 TEDIOUS LINK 11. The Fray- Over My Head 12. Sunfreakz feat. Andrea- Britton Counting Down The Days 13. The Fratellis- Ole black 'n' blue eyes 9:30 NEWSBEAT 14. Klaxons- Not Over Yet 15. Avril Lavigne- Girlfriend
Rain:
Last night there was big storms over London and Chris was saying about how it was warm when he went to the pub last night so he sat in the beer garden under one of those big umbrellas and how he felt it was the end of the world.
Dave managed to get his lawn mown and was putting the lawn mower in the shed just as it began. Aled then went a bit odd but put it down to his hayfever and Dom was getting abuse on the texts for his weather being wrong.
Aled showed Chris the weather map from the BBC wondering how Dom could say it was dry everywhere when there's rain from Scotland down to around Hull. Chris doesn't like the BBC weather map and how he hates being able to see the line from the square of screens behind the weather person and then he can't concentrate on the weather only the line.
Chris then explained a geeky game he plays on sky so he goes on channel 101 which is the local BBC channel and he likes to flick between the local channels and then see what the local headlines are for all the regions and also to see who has the most cheapest, tackiest set and how some days, there are no local news so they make the most out of anything which then made Chris do an impromptu white lines being painted on the road. Andi Peters text in saying about how sad Chris was for doing his geeky game. Aled said that they must have been separated at birth. People were texting in their local news stories one including a bra blocking a drain and making it burst and the rhubarb triangle of up north. Dom felt that they should include more stories like this in their news.
Carrie Protectors:
JK and Joel were picking on Carrie this morning and how she looks like Claire Balding and so Aled and Chris are now trying to protect her from them while Dave thinks its hardly anything to be upset about. They then came in to explain themselves and were blaming Rachel for when she said the one of them, couldn't tell which one, was told to keep away from Carrie so he never comes in to say hello now.
Andi Peters:
Andi Peter's phoned in today and Chris and Dave sang the Live and Kicking theme tune for him. They then asked about why he had to say goodbye to Northern Ireland on the Broom Cupboard because the news started exactly at 6 and he had the last live junction on BBC and Northern Ireland didn't show Neighbours at 5:35 and instead they had their news then. Carrie was then saying how Ed the Duck wasn't real and Aled was trying to get Andi off the air because of people texting in "Where's Rachel" and he revealed he didn't like Andi because he rejected him from a children's tv audition and Dick from Dick and Dom got it instead. Andi then had a guess who for the team, turned out to be Piers Brosnan which Carrie guessed.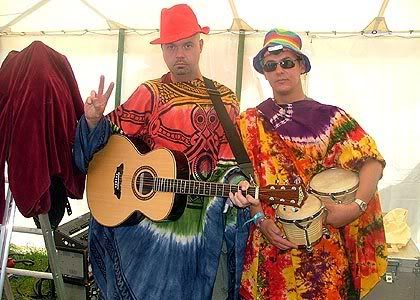 Glastonbury Competition:
Chris explained the competition to get tickets for Glastonbury involving FolkFace where they will play a song and someone has to guess what the song is by an artist who will be performing at the festival. At 8:15 it was time for What the Folk Is That? FolkFace played folk interpretations of Rehab by Amy Winehouse, The Fratellis' Chelsea Dagger and Ruby by the Kaiser Chiefs.
Later FolkFace played more of Rehab for Chris and then he asked for Level 42, Running in the Family after Dave said they would do requests and then he changed it to Lady in Red by Chris de Burgh and finally My Generation by The Who. For each song, Dom played exactly the same on the guitar.
James Nesbitt:
They haven't rated him from last week so they did so today. Dom gave him a 7.25, Carrie gave a 7.77, Dave gave him a big fat 8, Rachel gave him a 7.5 and Aled gave him 7.8. Chris rated him 7.2 giving him a grand total of about 45 and a half according to Dave which was between David Tennant and Take That.
Chris' Book:
Dave said he needed a book review by Chris so he told Dave to write down "It's Great. Buy it". He then asked the team who had read it all and only Dave and Carrie have. Rachel told him off for talking about his book, but Chris said he was because it was a funny link.

Dom's Present:
Dom got a present today of a Dymo label maker after talking about his granddad yesterday and Chris asking if he put labels on everything like Kitchen on Kitchen and other things and this somehow lead to a conversation about CB radios and how Chris had conversations on them with people 2 streets away when he was a child. A load of people text in about the radios allowing Chris to continue talking about them and try to explain to Dave why they are good.
Other Stuff:
(*)Joce's Birthday: JK and Joel are dressing up as Fireman Sam or a fighter pilot and Joel as a jockey or Dev from Coronation Street as it's her birthday tomorrow which meant Joel could do his Dev impressions and Chris tried to make him sing along to the jingle.
(*)Will Mellor: They had done a proper version of Dave's parody and he hit the vocal when Chris tried to play it. He had done some backing vocals for the chorus.
(*)Steve Lamacq: Chris play a clip of the end of Steve's show where he was doing a link into the news after playing a song called "Burn Koko" to find the first news story is about Gatecrasher burning to the ground.
(*)Tedious Link: From Girls Aloud's Biology to Fine Young Cannibals and Good Thing.
(*) Car Park Catchphrase: Cary vs Katie- Katy guessed "Silence of the lambs" and "The blind leaving the blind".
Yudster wrote:Ben, will you be bringing your girlfriend along to the meet-up? If you deflate her she'd fit fine into a Sainsbury's bag I reckon, no problem.
Like lifeboats? Like lifeguards? Give us a quid then as I run myself to death in October.
http://www.justgiving.com/charlotte-thompson2013