By
charla
- Fri Feb 02, 2007 5:38 pm
- Fri Feb 02, 2007 5:38 pm
#268352

Friday 2nd February 2007
7:00 NEWSBEAT 1. Fall Out Boy- This Ain't A Scene, It's An Arms Race 2. Booty Luv- Boogie 2nite 3. Kasabian- Me Plus One 4. Corrine Bailey Rae- I'd Like To 7:30 NEWSBEAT 5. David Guetta vs The Egg- Love, Don't Let Me Go 6. Snow Patrol- Open Your Eyes 7. Justin Timberlake- What Goes Around…Comes Around 8:00 NEWSBEAT 8. Basement Jaxx- Oh My Gosh 9. Klaxons- Golden Skans 8:30 NEWSBEAT 10. Mika- Grace Kelly 11. The Killers- When You Were Young 12. Gwen Stefani- The Sweet Escape 9:00 TEDIOUS LINK 13. Damien Rice- Rootless Tree 14. Mason vs Princess Superstar- Perfection 9:30 NEWSBEAT 15. Razorlight- Before I Fall to Pieces 16. Bloc Party – The Prayer
Chris is late:
Dave had to open the show as Chris hadn't turned up yet. After two songs, Chris had finally turned up. Despite oversleeping, he was still tired but he said he was staying away from Dick and Dom, who were doing the early morning show before them. Chris was commenting on Dick's Starsky and Hutch hair and then had a go at Dave for sounding nervous when he opened the show and Rachel too the blame because she forgot to fade the mic up. Chris was moaning that Rachel didn't do a link at the beginning of the show and playing songs instead, but turns out that Dom and Carrie were the only people in the studio as Dave was talking to Dick and Dom and Rachel was panicking. Chris was saying it doesn't matter if he oversleeps because the show is all about him and it's like a football not turning up in a match. So until he arrives the show doesn't start.
Then Chris was asking what they would do if he and Dave didn't turn up for Monday's show and what would the team do. Rachel said that the protocol would be for the people who were on before to carry on. Chris then ranted that Radio 1 is lazy and that Dominic and Carrie could do the show. Everyone agreed that Dom would be the person who would do the show. Chris then would imagine it would be a show filled with U2 and a U2 competition.

Aled:
Aled was calling from Doncaster, He went up yesterday and went to the college where the karaoke is going to take place. He is with Paul the Bear, and he is moaning that its cold and never gets to go anywhere warm. He had his Russian hat on which apparently means he is really grumpy this morning. He is giving away tickets for the karaoke; he had ten sets and was giving them away in exchange for an item of clothing. He was standing on a big pink radio 1 banner, which is very strange but very Aled. He wasn't allowed to give any tickets away though until he spoke to Chris again and was instructed to line them all up ready.
Later in the show, they spoke to Aled again and a man who ran over from his fish stall with a hat got some tickets. Strangely he didn't smell of fish. A girl was a 8 out of 10 on Aled's fitness scale called Holly but sounded too gobby for Chris but got tickets because she look liked she could cop off easily. Aled was then allowed to give the tickets out to whoever they want.
At 8:27, they went back to Aled who had moved location in Donny and was giving away another 10 sets of tickets. Once again, people had to bring another item of clothing, but they decided that it would be better if people had to sing to Aled to get tickets. Aled managed to get a little crowd together who all shouted "Donny Donny Donny!" He then got them to sing down the phone and let Chris judge if they get tickets or not. They had to do this whilst there was a siren in the background and so there was a few police jokes although it turned out to be an ambulance which Aled said was alright much to the team's amusement. Paul the Bear, has stopped being so mardy now someone offered him a cup of tea.
Football Tickets:
The team gave away tickets for Manchester City against Reading. The question was which of these is not a defender for Manchester City; Danny Mills, Hayley Mills or Scott Mills. Then they changed it to who is a defender. More easy than usual as Chris mucked the question up and just told the answer, but still have a guess. They then realised that Danny Mills is now on loan to another club and Dave said it was a very bad question. A lot of Man City fans text in saying the answer but explaining why it was wrong so they had to do the link again. So Dave came up with another question which was; Who is the manager of Manchester City; Stuart Pearce, Dave Pearce Pierce Brosnan. After a song, Dave introduced the song because Chris and Rachel want to go home after the mess of the Danny Mills question. Someone won somehow.
Dick and Dom:
They came in for a quick chat, but both of them had man bags. Chris said it was more like Starsky and Dom than Dick and Dom. Dick was pressing all the buttons and Dom just guffed and drank tea like Dave does. Dom didn't do any tricks but Chris asked so Dom asked think of a number between 1 and 10 and Chris said 7 and Dave said 6. I don't think anyone really understood what it's about.
Dom was asked about whether he still had a playing card stuck to his ceiling in his living room when Chris was there at a party. They never explained why, but we found out Dom doesn't really do his magic anymore. Dick is apparently good at magic as he's managed to hypnotise BBC bosses to give him contracts.
Play your Rugby 6 Nation Tickets Right:
Even after the disaster of the football ticket giveaway, the team managed to give away tickets for England vs Scotland at Twickenham, Which one of these are not part of the 6 Nations? England, Scotland or Poland. The answer of course was Poland, and there was an England winner and a Scotland winner so everyone was happy except for a woman who text in saying it was unfair two men won.
This allowed Chris to plug Featherstone Rovers even though its Rugby League and Rugby Union like the 6 Nations, which Carrie said is the best rugby. Chris asked for a report about how Featherston Rovers get on, but everyone was busy.
Football Predictions:
Liverpool vs Everton is this weekend and Dom gave the prediction 3-1 to Liverpool, Dave said 1-1 draw and Carrie said 2-1 Liverpool as it is being played at Anfield. Leeds have got Norwich this weekend, and Chris said that they will win despite saying two seconds earlier that they will lose. He then did a nice rant about Leeds rising like a Phoenix. Are the team right? No doubt will hear all the audio of the game on Monday for Dave or Dom's enjoyment.
Last Night:
Chris went to the pub having a couple of drinks and then he saw two people walk in. This allowed a little game of guess who. Dom guessed that one was a man and one was a woman and that they were a couple but they are not in the world of acting. Carrie asked if the man was involved in the world of music. Dave asked if involved in music. Rachel asked if it was a television presenter and Dom asked if they did magic, Carrie asked if it was a footballer, Dave asked if the girl was a chef. Rachel guessed that the woman was the famous person. Dom sport, Carrie asked if she was involved in the world of music and then correctly guessed it was Sarah Harding and Joe Mott.
Chris said they revealed some secrets, one of them being that Nicola smiled and the Cheryl is going out with Ashley Cole. Nadine is seeing someone from Desperate Housewives. They were also talking about how much Nicola hates Chris and how he hopes they can become from enemies to friends. Chris is going out tonight and Dave can't come because he is gigging in Exeter. Heaven in Devon.

Dom's Jingle's:
Dom had managed to get some local radio jingles that were made for the team after last week where they were pretending to be on local radio. Each member of the team had their own jingle. Carrie's jingle said a sporting chance with Carrie. Rachel's was for her fashion slot, Talking Shoes. Dom thought Dave's was more like a Phone in, it was Comedy Dave's Gardening Phone In. He then led into S Club 7's Bring it all back with there's no party like a gardening party. He had anther version where it was Comedy Dave in the Potting Shed. Even Aled had one. Then Dave had a little sing along to Ronan Keating which was very bizarre which he put down to doing an Irish accent which sounded more Chinese.
Children's shows:
After the news, Chris was talking about Dora the Explorer and what it's about and Dom was able to give a detailed description of the show although he hasn't seen it in as much depth as Sophie. Dom said he knows much more about Big Cook Little Cook. Dom said his favourite show was Big Cook Little Cook. Apparently Dom has some exciting news that is to be revealed one day, but is very exciting.
Carrie on Footballers:
Chris Riggot, his biggest hero was Dean Saunders; thinks the best thing about being a footballer is he gets to do what he loves every day. He likes dogs and his last album he got was The Killers he prefers EastEnders over Coronation Street and salad over chips. Asked how he will be remembered he said as a fat head.
Dom and Dave's Show:
After playing bloc party, Chris disappeared so Dom and Dave had to fill in with classic lines like there's no party like a Bloc Party party. Then they tried to make Dave do the gardening show and then let Rachel do her show, apparently she had a dream where she got her own show, but only for five minutes. Rachel did quite well except for calling her show the talking show shoe and forgetting the name of the Spice Girls track she was playing.
Other Stuff: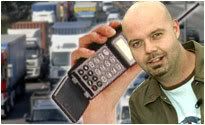 (*)One Road Travel: Debbie Barker lives in Poppet Road and has a dog called Missy and her favourite sandwich is ham and cheese. She was also once was on brainteaser.
(*)Celebrity Tarzan: Introduced as one mistake from another. Rachel gave a clue which was that Celebrity Tarzan is a man. She also said that the man is not a singer or an actor and he is British. ER complete 7th series DVD and a Ministry of Sound CD were the prizes. Helen from Preston, who is living in London guessed Chris Martin and was wrong.
(*) Dave's haircut: Dave is now spending £14 on his haircut from the original £9 he used to spend. Chris doesn't spend anything as Sophie clips it for him now he's shaves. Rachel spends about £40.
(*) Tedious Link: From yesterday's Wham, Wake me up; the link went to I'm Gonna Get You by Bizarre Inc. It wasn't seamless, there were 2 minor mistakes said Dave. These being that Alf Roberts is in Coronation Street not in Home and Away and also Sleeping with the Enemy didn't star Robert Klein.
(*) Car Park Catchphrase: Paul against Joanne from Southport. The catchphrases were Teach Grandma to Suck Eggs and Who ate all the pies? Paul won and chose Carrie's mug to go with his collection. He only needs to win two more times to get the whole set.
Yudster wrote:Ben, will you be bringing your girlfriend along to the meet-up? If you deflate her she'd fit fine into a Sainsbury's bag I reckon, no problem.
Like lifeboats? Like lifeguards? Give us a quid then as I run myself to death in October.
http://www.justgiving.com/charlotte-thompson2013