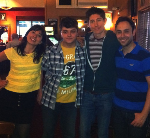 - Thu Jul 21, 2011 2:23 pm
#444706
Listen to the whole show here
(thanks to ianpwilliams)
06:30 Tuesday Cheesy Song06:32
Chris greets the team and the nations. Dave thinks the team sound perky today. Chris has a 'bed-radius' cold and most of everyone else is unwell too. The team talk about taking a day off. Chris wants to take a holiday from the nations that the show broadcast to. Chris asks what time everyone got to bed last night. Dave went very early and Tina was up very late.
06:37
Chris talks about the team lunch from yesterday. He says he couldn't understand most of what was on the menu. He settled for something on the children's menu. Chris is proud to have refrained from eating any bread unlike Executive Producer Rhys who ate most of the basket. Dom didn't make the lunch because he was interviewing Sir Michael Caine yesterday.
06:44
Chris talks about an
interview with Lady Gaga he listened to yesterday on The Howard Stern Show
. Chris is fascinated by her song writing method where she uses her phone to record ideas. Chris would love her to play the piano if she ever came in for an interview.
06:47
Chris watched '
Show me the Funny
' last night on TV. He says was a bit disappointed with it as he didn't like the format. Chris talks about the sporadic weather yesterday.
06:50
Chris asks Aled what he did yesterday. Aled had a Harry Potter Movie Marathon and is planning on watching part 1 and 2 of film 7 back to back at the cinema. Chris talks about watching Star Wars back to back at the cinema. Tina and Dave want to watch
Bridesmaids
but Chris thinks it's a boring chick flick. Aled talks about the upcoming '
Dark Knight Rises
' movie which he saw the trailer for yesterday, but gets a bit confused over the film names. Chris gets frustrated when he finds out the film isn't even out for another year.
06:57
Chris talks about
Cowboys Vs Aliens
, directed by Jon Favreau, which he is looking forward to seeing. Chris remembers his Face Your Fears prize for facing the mad dog and still doesn't know when he can go to the cinema with J J Abrams.
07:00
Chris talks about Jon Favreau appearing in Friends which was a surprisingly long time ago. Dom impresses the team with his in-depth Friends knowledge.
07:02 News and Sport07:05
Chris asks listeners to text in where they are right now. He reads some of the texts out. Chris says that a lot of people will be on their last week at school before the summer holidays.
07:09
Chris asks Dom what jingle he wants next out of 'Shower' 'Dom and Tina' or 'Autotune'. Dom thinks 'Shower Dom and Tina' sounds good.
07:10 Music
Katy Perry - Last Friday Night (t g i f)
Aloe Blacc - I Need A Dollar
07:18
Chris reads out some 'school sucks' texts from people on their last week of school. Chris thinks most of the people breaking up from school won't tune back in to the show until September. He and Aled think they should take the summer off.
07:20 Celebrity Raspberry
Today's caller is Yasmin from Essex. Yasmin has just finished her GCSEs and is about to go into sixth form. She's currently doing work experience in accounts but she thinks its fun. Yasmin and Dave have a maths-off. Yasmin thinks the celebrity raspberry blow is Olly Murs, but she is wrong.
07:28
The team try to get clues for Celebrity Raspberry. They find out that the celebrity raspberry blower is a famous singer but not in a band, has been in studio in the last six months, has been in the chart recently but has not performed at T in the Park this year.
07:32 News and Sport07:36
Aled confirms some of the clues for Celebrity Raspberry. Chris thinks he knows who it is but Aled says he's wrong; Tina and Dom are thinking the same person but they too are wrong. Chris and Dave express some love for the Morning Jazz bed.
07:38 Music
Bruno Mars - Just The Way You Are
Laidback Luke, Steve Aoki and Lil John - Turbulence
07:45
Chris wants to find out listeners opinions on the Laidback Luke track. He thinks having a pilot sounding like the one in the track would be unnerving. Chris reads out some of the responses to the track which is mostly hate. Dave finds the tallying confusing.
07:48 Rob DJ's Monday Night Pub Quiz
The current scores are very tight. Dom has 41 points, Tina has 42, Chris has 43 but Dave is in the lead with 46 points.
Question 1: Name the artist; 'White Flag' from 2003
Question 2: What is the name of the fictional school in the TV series Glee?
Question 3: How many hands does Big Ben have in total?
Question 4: If a pair of dice are thrown and land on a 1 and 3 what is the sum of the numbers visible?
Question 5: Ha Book Berserk is an anagram of this headline-maker, 2 words.
Aled gives the options ofWilliam McKinley, William McKlusky, William McKorby High School for Question 2.
There is some confusion over Question 4. Aled thinks to 'land on' a 1 and 3 would result in the dice facing down on 1 and 3, and has worked the answer out using this method; the rest of the team think that the numbers would be face up if they were 'landed on'. Aled can't even get the answer he worked out earlier this morning. Chris decides to help him out.
08:01 News and Sport08:04 Rob DJ's Monday Night Pub Quiz Answers
Answer 1: Dido. Dom, Dave and Chris got it right; so did Ed from Chester who text in.
Answer 2: William McKinley High School. Chris and Dave got it; so did Mike who text in.
Answer 3: None. Chris got it right; so did Matt from Poole who text in.
Answer 4: 32. Chris got it right; so did Craig from Plymouth. Dave, Dom and Tina worked out the answer using Aled's 'face down' method and got 38 but Aled confirms that the correct way is the 'face up' method. Dave, Dom and Tina aren't happy about being misled by Aled so everyone is awarded a point much to Chris' annoyance.
Answer 5: Rebekah Brooks. Everyone got it; so did Phil McCluff from Leeds who text in.
Chris thinks he's been robbed because everyone got a point for Question 4 despite he being the only one to get it right. Dom almost gets disqualified for turning his text screen on before being the end of the quiz.
The new scores are; Dom and Tina are last with 44 points, Chris is second with 48 and Dave is first with 50 points.
Rob DJ has text Aled to say he wants to give Chris a bonus point but Aled decides against it.
08:21 Music
Maverick Sabre - Let Me Go
Foo Fighters - Walk
08:29
Chris is still sulking over the pub quiz. He posts a picture of his score sheet to Twitter. Dave brings up that Rob DJ used some of the questions from today's quiz on Twitter over the weekend, which Chris saw.
08:32 News and Sport08:36 Music
The Black Eyed Peas - Just Can't Get Enough
Benny Benassi and Gary Go - Cinema
08:43
Chris and Dave listen to the lyrics from the Black Eyed Peas track where Fergie sings that she's 'addicted to german cider, love'.
08:44 Dom's interview with Sir Michael Caine
Dom interviewed Sir Michael Caine yesterday at a posh hotel. Chris plays some clips from the interview. Dom talked to him about the new film Cars 2 as well as ask him some random questions such as if he lives next door to Sian from Hereford but Sir Michael doesn't even know where Hereford is; how many shoes he has, a lot but never any with laces. Dom then plays the game 'Movie or Whovie?' which asks Sir Michael if he remembers a list of some movies he starred in but some are made up. He gets a bit too detailed in his answers. Dom finished up by asking Sir Michael Caine if he'd like his number.
08:55 Music
Birdy - Shelter
08:59
Chris and Dave have some ideas for Dom's interview with Jennifer Anniston tomorrow.
09:01
Chris talks about Sir Michael Caine not understanding the quick-fire nature of Dom's game and talking into way too much detail about his past movies.
09:03 Dave's Tedious Link
Mousse T - Is It Cos I'm Cool
09:09
Chris expresses his love for strings in a song and plays the strings only version of the show closing.
09:11
Matt Fincham arrives in the studio. The team talk about Matt's dad's retirement party. He was a teacher at a primary school. Chris makes a rousing speech. Chris brings up Matt's indignant tweets from last night about the kind of questions Matt was going to get asked back home.
09:17
Music
Red Hot Chili Peppers - The Adventures Of Rain Dance Maggy
Nero - Promises
09:25
A listener texts in asking about the Star Trek music that Chris used during his rousing speech. Matt insists it is from Star Trek the Motion Picture 1979, and then re-versioned in First Contact 1998 but Aled thinks it's from the new 2009 movie. Dom tries a Jimmy Carr impression which results in a jumble of celebrity laughs.
09:30 News and Sport09:33
Some listeners have text in their support for Matt and Aled as well as some bad Star Trek puns.
09:35 Music
JLS and Dev - She Makes Me Wanna
Beyonce - Best Thing I Never Had
09:44
Chris puts on his low-pitch 'Charles' voice to talk to the team.
09:47
Fake Adele arrives in the studio for another chat. She wants to write a song about animals and a zoo. Chris helps her out with some lines she could use.
09:49 Carpark Catchphrase
Roy Walker has some strange call and response for the team. Roy has been working on a new track with Example after his solo attempts went under the radar; Roy sings Changed The Way You Kissed Me.
On Line 1 is contestant number 1 which is Vicky from Shropshire. Vicky is camping at The Royal Welsh Show and had a heavy night last night. Chris thinks The Royal Welsh sounds boring. On Line 2 is contestant number 2 which is Chris from Shobdan. Chris is going to The Royal Welsh Show this week too.
Carpark Catchphrase 1: Mr Fish has started training for next years Sport Relief challenge. The challenge is for him and Jedward to push a medicine ball across the Atlantic Ocean. Mr Fish has gone to the local swimming baths to train. Jedward reckon it'll be easy once the ball gets momentum. Chris beeps in first with 'Get the ball rolling' which is correct!
The show runs out of time so both Vicky and Chris are back tomorrow.
10:00 End of the show
Rich Brown
@richbrown