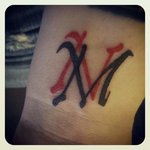 - Mon Jul 28, 2014 3:21 pm
#503805
dimtimjim wrote:

Nicola_Red wrote:What would you say they achieved by giving Barney the baby?



To me it was indicative of a feeling I myself experienced 12.5 years ago.

Barney, the exemplar serial womaniser, suddenly having that moment of realisation as he first holds his own child in his arms... showing the softer side which resides within all men, but is hidden better in some models than others.

There really is no feeling like it and NOTHING can prepare you for exactly how it does feel - but I know all the parents on here will back me up on this. Sorry Nic, I know that maybe sounds like a 'dig' at you for not being a parent, but it so isn't intended that way.
Nah, it doesn't sound like a dig at me. It does sound cliche-y (not a word) and sappy to me, but no doubt that's cos I'll never experience it. I still don't get why we needed to see a softer side to Barney, though. Maybe they felt they suddenly needed to redeem him for all the womanising, but I don't think that was necessary at all.
Bas wrote:She's the Tina Daheley of chrismoyles.net
Missed any of Dave's Tedious Links? Catch up with my Tedious Links 2010-12 page here