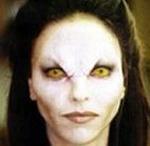 By
Yudster
- Tue Dec 17, 2013 8:36 am
- Tue Dec 17, 2013 8:36 am
#501296
Eggs? I thought quorn was that fungus stuff! Shows how much I know about this meat free lark. And I thought tofu was soy - never mind!
Charlalottie on Twitter wrote:Just remembered that I played pool with a satanist last night. Really should go out on a Friday more often.
Charlalottie wrote:Had a good night last night. We lost the pub quiz but had my hair plaited by a viking.