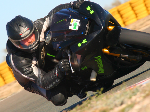 - Tue Mar 15, 2016 2:05 pm
#508553
Sorry to bring it up, but have not mentioned it up till now. This seasons Premier League - wowzers. And by wowzers, obviously I refer to Leicester City Football Club and their amazing season so far.
Oct to Dec was all very nice, happy in the knowledge we were doing so well, but that at any point soon, the wheel was gonna fall off the wagon leaving us with a nice mid-table finishing position.
Now, we're staring down the barrel of what could end up being the most incredible result in football history.
8 games to play and 5 points clear. Even better, 11, 12 and 16 points clear of the 'real' title rivals of Arsenal, Man City and Man Utd, respectively. Totes. Amaze. Balls.
Having all the 'neutrals' behind us is great. And, if nothing else, it must give confidence too all other teams (Villa being a prime example), that; you just never know... Bottom of the table 'certain' to go down only 12 months ago and now points in hand to win the league. Crazy shiz.
C'mon Foxes!

I've actually met Chris n shook his hand. This fact is still causing slight issues in my trouser dept....

Yudster wrote:Best post ever.