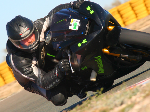 - Mon Dec 14, 2015 9:15 am
#507927
Ok, so not expecting this to be a long thread, but...

Is anyone else off to see the new Star Wars film this week?

Being an uber SW geek - I'm going to see the very first screening (1 min past midnight on wednesday night / thursday morning) on my own and then taking the boy to see it on Saturday.

I'm v.v.v.v. excited.
I've actually met Chris n shook his hand. This fact is still causing slight issues in my trouser dept....

Yudster wrote:Best post ever.