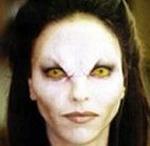 By
Yudster
- Fri Nov 02, 2007 5:08 pm
- Fri Nov 02, 2007 5:08 pm
#311572
He's wanting to be the lodger, not the lover though! Aled's morning BO shouldn't really be an issue I wouldn't have thought. If indeed it exists........
Charlalottie on Twitter wrote:Just remembered that I played pool with a satanist last night. Really should go out on a Friday more often.
Charlalottie wrote:Had a good night last night. We lost the pub quiz but had my hair plaited by a viking.