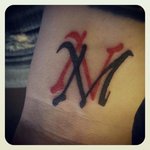 - Tue May 31, 2011 11:52 am
#439606
6.30am
Show starts with the Friday cheesy song
6.33am
Chris tells us that he saw Reggie Yates at the gym, and that he was laughing as usual. Aled says that he thinks Reggie is just a naturally happy person. Chris then says that he went for dinner at his brother's house last night, and that he's still not drinking. They had Moroccan lamb and couscous.
6.37am
Chris has been looking at old photos of his family, and shows the team some of them. He also mentions that his Dad knows all the pubs in the local area.
6.45am
The team discuss their upcoming Saturday lie-in.
6.46am
It's pointed out that Dave is absent. Chris explains that he's stuck in traffic.
6.48am
Dom suggests that the team all bring baby photos in next week.
6.50am
Chris says he needs to go the gym today, and that he gained weight whilst in Carlisle, and before that while on holiday after the marathon show in March.
6.55am
Aled has organised a breakfast lottery for this morning, but isn't sure whether to do it or not.
6.59am
Dave arrives, and confirms that he did indeed have traffic trouble.
7.02am
Dave asks Chris for his brother's Moroccan lamb recipe. Dom asks him if he doesn't feel strange eating lamb after their walks through sheep fields while in Carlisle, but Dave says he's fine with it. Dom doesn't like lamb, as it's "too meaty".
7.04am
The team decide they will play Aled's breakfast roulette after the news.
7.05am
News with Dominic and Tina
7.09am
Aled's breakfast roulette. The results are as follows:
Aled wins his own breakfast, porridge with soya milk
Dom wins Chris's bacon omelette
Tina wins Dom's sausage and beans
Chris wins Dave's toast and Marmite
Dave wins the bonus full English breakfast.
7.14am
Black Eyed Peas - Don't Stop The Party
7.18am
Jessie J - Nobody's Perfect
7.22am
The team discuss Jaguar Skills' show which took place on Radio 1 last night (Thursday 27th May).
7.24am
Celebrity Raspberry. Today's caller is Chris from Chippenham, who is a driller for a site investigation company. He incorrectly guesses the raspberry-blower to be Matt Smith.
7.33am
News with Dominic and Tina
7.37am
The team read out some exam texts, and wish exam-takers well in the style of Alan Sugar and the Dragons. Dave and Dom act out a scene between Adele and Theo Paphitis.
7.42am
Taio Cruz - Dynamite
7.46am
All Time Low - I Feel Like Dancing
7.49am
The team discuss the Guardian's Music Power 100 list, a countdown of the most powerful people in music today. They play a game in which they have to guess who's in the list and who they are higher or lower than. Chris and Aled are at no45, Adele is no1 (you can read the full list
here
).
8.06am
News with Dominic and Tina
8.10am
Noah and The Whale - Life is Life
8.14am
McFly - Star Girl
8.18am
The team talk about Take That, whose UK tour starts this weekend in Sunderland.
8.20am
Promotion for the 10 Hour Takeover on Bank Holiday Monday, which is live from Camp Bastion in Afghanistan. They decide to do a 10 Second Takeover and invite listeners to call in to choose songs that that they want to hear the first ten seconds of.
8.25am
Alex Galdino - What A Feeling
8.28am
More discussion of the Guardian Music Power list.
8.29am
Further discussion of the 10 Hour Takeover. Chris does his best Westwood impression as promotion.
8.34am
News with Dominic and Tina
8.38am
More Westwood impressions.
8.42am
Lady Gaga - Edge Of Glory
8.47am
David Guetta featuring Nicki Minaj & Flo Rida - Where Them Girls At
8.50am
Tina and Aled talk about their night out to see Olly Murs in concert last night. Tina denies fancying Olly, but Aled readily confesses.
8.55am
The 10 Second Takeover. The tracks we hear the first ten seconds of are:
Stevie Wonder - SuperstitionGuns N' Roses - Sweet Child O' MineBabylon Zoo - SpacemanUnderworld - Born SlippyLady Gaga - JudasFoo Fighters - Rope
9.02am
The Golden Hour begins.
9.03am
Spice Girls - Say You'll Be There
9.08am
The Wannadies - You & Me Song
9.12am
TLC - Creep
9.16am
Blur - Charmless Man
9.20am
Bone-Thuggs & Harmony - Crossroads
9.25am
Chicane - Offshore
9.28am
Kula Shaker - Tattva
9.31am
The Golden Hour reveal - Dave, Tina, Dom and Rick from Online all correctly guess 1996.
9.33am
News with Dominic and Tina
9.39am
Nickelback - Rockstar
(Tina's choice)
9.43am
Fatman Scoop featuring the Crooklyn Clan - Be Faithful
(Matt's choice)
9.47am
Daft Punk - Da Funk
(Aled's choice)
9.51am
Stevie Wonder - Signed, Sealed, Delivered
(Dave's choice)
9.54am
James - Sit Down
(Dom's choice)
9.58am
Take That - Relight My Fire
10.02am
A singalong to the Take That track segues into the handover with Sara. She congratulates the team on their 10 second Takeover, and chooses her own 10 second track, which is Take That's Everything Changes.
Bas wrote:She's the Tina Daheley of chrismoyles.net
Missed any of Dave's Tedious Links? Catch up with my Tedious Links 2010-12 page here