By
charla
- Fri Mar 23, 2007 3:38 pm
- Fri Mar 23, 2007 3:38 pm
#275406
Thursday 22nd March 2007

7:00 NEWSBEAT 1. Bodyrockers- I Like The Way 2. The Fratellis- Baby Fratelli 7:30 NEWSBEAT 3. Nelly Furtado- Say it Right 4. Bedouin Soundclash- When the Night Fills my Soul 5. Muse- Invincible 8:00 NEWSBEAT 6. Just Jack- Starz in Their Eyes 7. Alex Gaudino featuring Crystal Waters- Destination Calabria 8. Natasha Beddingfield- I Wanna Have Your Babies 8:30 NEWSBEAT 9. The Killers- Read My Mind 10. Kelis- Lil Star 9:00 TEDIOUS LINK 11. Razorlight- Can't Stop This Feeling I've Got 9:30 NEWSBEAT 12. Kaiser Chiefs- Ruby 13. Justin Timberlake- What Goes Around…Comes Around
Wrestlemania:
JK and Joel are going to see Wrestlemania 23 and have got tickets for it as a prize. Chris can't understand how they have managed to convince Radio 1 to do this. JK is only going just to go to Detroit while Joel wants to see all the wrestling.
Dom was then finding out about Detroit and how it is motor city and finds it "amazing". Chris discovers that the trip is down under holiday and that JK and Joel won't be doing any shows from there which annoys Chris. They did say they would do some little phoners back which is generous of them.
They then start talking about the early morning shows and more specifically James King and Natalie Jamieson, and their feature Friday Fido.
Then Dave notices JK is wearing Tie-dye which was in about 1983 apparently and then Chris doing impressions of a wrestler ordering something from Starbucks. Then he continued this impression into the Bodyrockers.
A very odd start to the show which was continued and Rachel commented that the men don't even look that nice. If they all looked like Brad Pitt then it would be worth seeing. Dave said the women look plastic and it's not his thing. The team were then trying to come up with ways to get a trip at the expense of Radio 1. Dave said about going to America for the American Idol final and so this allowed Chris to quiz Dave on who is left as he's been watching it.
Dragon's Den:
The team talked about last night's Dragons Den and a particular invention which has an infra red thing which allows you to turn the telly completely off instead of putting it on stand-by with the remote control. Chris was then saying how it seems like they screw the inventors over with the amount of money they give and how much they expect of the share.
The Apprentice:
Chris was talking about The Apprentice and Chris did a nice impression of Sir Alan Sugar and Dom said about when he had to interview him and how horrible it was as Sir Alan did not like Dom at all. Chris then spoke about his favourite people who are the helpers of Sir Alan who sit either side of him and how bizarre the show is generally. Then Chris spoke about his prediction game where he tries to work out who will be fired in the next episode by looking at where Sir Alan is pointing his finger and remembering it for when everyone sits down next week.
After the news, Chris was saying about how people had been texting in saying when has Tommy Cooper been doing The Apprentice. "Sir Alan" was then asking Dom about what he was doing with the weather and then asking Carrie questions, and then spoke to Dave and saying he liked Dave.
Sir Alan: I like you; you're an ass-kicker. Do you know what I hate?
Dave: Ass-kickers?
Sir Alan: Ass-kickers!
"Sir Alan" was then choosing who to fire and was moaning at Dom saying he messed up everything and then was moaning at Dave saying he had beady eyes and also that Carrie is a terrible project manager but Dom got fired instead. Dom was allowed to grovel a bit before actually having to go.
Chris then was doing the next week on the show part and was talking about buying yoghurt and leeks. Dom correctly summarised that Chris knows this show way too much.
Dave's moving house:
Today Dave is moving house, he has nearly packed and Chris played I Like the way you move in the background which Dave didn't get straight away. Chris flaked out on Dave, as they were supposed to go out and so Dave did packing all night instead. The removers are going to get there at 9am and hopefully be packed up by lunch and leave at 1 and move into the new place at about 2 or 2:30. Dave hopes they'll be gone by 4. Dave was then explaining how he has paid them to pack stuff up like cutlery and that they'll wrap them up and put them in the box and label it all nicely and then dump it. Chris was then asking about Dave's hidden stuff which annoyed Rachel as it was too early for porn apparently.
Dave is moving out of London and is going to become so annoying being all countrified. Then they were talking about house meetings and how boring they are.
At about 8:45, when Aled came in, they spoke about Dave moving house and Chris asked Dave if he knew the local shop, the pizza delivery and other important questions.
Dom's son:
Dom has been boring everyone by playing clips of his son. He is only 3 and a half and his favourite song his by Just Jack and so he was playing his son singing it. So Chris allowed Dom to play it on air for everyone to hear. Chris asked if he could play a load of Eminem and Public Enemy the next time he babysits. Dom was annoyed that his wife missed it as she was on the phone to her Mum.

The Budget by Dave:
Dave decided that it would be a good idea to explain the Budget for everyone listening seeing as he is Radio 1's equivalent to Carol Vordaman. The fact he started off saying "I'm not a financial expert" did predict this was not going to be totally accurate. Also the use of local radio jingles emphasised this. The day before, Gordon Brown delivered the Budget and so Dave broke the speech down into digestible bullet points by playing a game.
Dave just gave the stuff we needed to know and not any waffle or the stuff he didn't understand. So the team had to guess whether it was higher or lower.
So here it is;
Beer is higher.
Income tax is lower.
Fags is higher.
Cider is higher.
VAT on nicotine patches is lower.
Petrol is also higher.
Dave was impressed with how everyone was getting right and how they weren't as stupid as they looked but the game was quite easy. It was slightly odd to hear Chris cheering that fags have gone up but he was cheering the fact he got it right.
Then there were texts saying for some people, income tax was going up which the seemed to confuse Dave as he tried to explain how this was happening.
Chris then wanted to ask Dave some Budget questions involving 4x4 drivers and the text eventually crashed from so many texts. Dom then said that the Chancellor of the Exchequer used to come on to the Radio 1 breakfast show and explain it in the old black and white days of Radio 1.
Other questions were "I ride an elephant, how does the road tax affect me?" and "What about the lower 10% income tax rate". Then later "Does the type of elephant effect the road tax?" and "I have a 4x4 elephant will I pay more" and then Dom asked "If I was drinking cider on an elephant" which Chris correctly informed Dom he couldn't as that would be drink and driving.
X Trax:
Chris had a copy of the X Trax magazine which is like a radio magazine with things like what happened on this day. 4 years ago Gareth Gates was number1 with spirit in the sky, 5 years ago Will Young and 6 years ago Hear'say was number 1. Chris was announcing the nominations for the X Trax awards. Nominees for raising the awareness of radio are Chris Evans, Russell Brand and Terry Wogan. For Controller of the year, Parf Daddy is nominated and still is using a photography that was taken 15 years ago. News Broadcaster of the year, Dom is not nominated for. The team feel there's been an oversight and Chris think it is outrageous as he feels Dom is the best radio newsreader. Presenter of the Year, which Chris summaries as ever DJ who has worked ever. There was Russell Brand, Scott Mills, Chris Moyles, Terry Wogan were some. Chris was then talking about the other categories there were such as Scottish Presenter of the year, East England of the year, South and South West presenter of the year. Chris really wants to go to the ceremony but apparently there is no ceremony this year.
Chris looked for Producer of the year, and couldn't find it and then managed to and found out that Rachel, the current holder, is not even nominated.
Chris decided that there should be The Chris Moyles Awards where everyone gets an award and they have the ceremony in the pub and get it all dressed up for it. Categories including; sports reader of the year, Sandwich producer of the year and the Jocelin award.
Aled's Present:
Aled brought in a present which was in a bag. It was a new PS3 which Chris was unimpressed with as he is an Xbox gamer. Dave asked if it was like when they got the Xbox and dropped it to scare Chris and scared Aled as he was trying to snatch it out of Aled's hands. Rachel found it all amusing. Chris was surprised with how heavy was and Rachel liked how shiny it was. Dom then came running in to the studio to have a look. The team then was explaining to Rachel all the differences between the PS2 and the PS3. Chris suggested selling it in Oxford Circus for £3000. Aled then wanted to look after it which was fair enough seeing just after he said that, Chris suggested a game of catch with it. Rachel wanted them Chris and Dave to play must to Aled's horror. Aled then was trying to bribe Chris not to throw it. Chris did a huge speech about how he is a game pervert with how his front room is like a graveyard to game consoles and how he feels he has cheated on his Xbox wife.
When Aled was leaving with the Xbox in one piece, everyone tried to do a bundle and all you could hear was Aled's protests.
After Tedious, a text came in saying that the team were prats for disrespecting the PS3. Someone also asked for bundle to be explained. So Dave did an audio of a bundle for everyone at home listening. Dave then remembered when they bundles someone famous but couldn't remember who.
Then Chris said they should do a vote on whether they should smash the PS3 up. Dom wanted to play catch, Dave wanted to play pass the console and Aled was trying to keep the PS3 in one piece. Dom came up with playing the music to Two Word Tango and instead of saying a celebrity they shout a name of the team and throw the PS3 to be caught. Chris set up a text vote and then said that if the listeners agree, whoever drops it has to stand outside in Oxford Circus naked as a forfeit.
After a song, we came back to listening to Aled trying to plug the PS3 in much to Chris' amusement at his attempts. Rachel and Dom were still agreeing with Chris and the 8000 listeners who had text in saying "catch" to play with PS3 in their alternative way.
Just as they got into the news, Aled went into shock when Dave accidentally kicked it.
After the news, everyone was treated to the audio of a formula 1 game and we had Chris commentating over it. Chris was playing as Jenson Button. Carrie commented on the nice throttle action that was taking place. As Chris was playing, Dave had to commentate. Chris was moaning that he didn't know what button was brake, and so probably the reason why he was last. After a while, Chris wanted to crash and so did so to allow Dave a go. Then we got to hear Dave play and Chris took up commentating. Dave didn't know where the brake was.
Chris said they weren't going to play catch with it as it would make Aled cry. Later we were listening to Dom play and staying off the track a lot and was also trying to play along with Car Park Catchphrase.
Car Park Catchphrase:
Alicia and Jim who was driving a truck full of sheep with a home made horn. Chris worked out that he wasn't really in a truck, and his horn was in fact a speaker system. So Chris cut Jim off. So Alicia chose to play with Aled instead who was also playing on the PS3. So when Aled needed to beep in, he had to say "beep beep horn horn". The catchphrases were "coming up smelling of roses", "don't cut off your nose to spite your face" and "it's take two to tango" with Alicia winning, although Chris did ignore Aled beeping in. Alicia chose Aled's mug for her mum.
Jo's Song:
Jo was stuck on the train earlier and Chris wanted to see if she was in the building yet. Then Chris randomly started to sing a song about Jo Whiley being in his basement and wearing her clothes. Dave then asked why Jo's scared of him. Then Chris tried to sing a song about Jo's producer but gave up luckily. Dave wondered if Chris is singing songs to purposely repulse women.
Jo Whiley is in my bedroom, she's hiding under my bed, I hope she doesn't wake up early or she'll go and bang her head".
Jo then asked Chris to finish the song about Sam.
Other Stuff: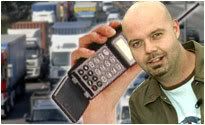 (*) One Road Travel: Danny from Preston who is a very big Newcastle fan and once saw Roy Walker riding a bike.
(*) Celebrity Tarzan: Today's added prizes were Jimmy Carr and Catherine Tate's DVDs. Adam Budd was today's caller and he guessed Billie Piper and was wrong.
(*) FolkFace: After playing Muse, Dom asked if they were not going to play Wembley as for about 8 minutes they were going to. Chris said they should try and support George Michaels and then they would be put on before him and they would technically play Wembley first.
(*) Alan Partridge: Dom found some Alan Partridge clips and betted £10 that Dom would not be able to smile or laugh hearing it. Chris still has £10.
(*) Snow: Aled rushed in and told everyone it was snowing which everyone was very excited about except Dave because the removal men will get muddy footprints on the carpet.
(*) Tedious Link: Today's song was Nirvana's Lithium. Brilliant. Not entirely watertight seeing as Dave confused an artic roll and a Christmas log.
Yudster wrote:Ben, will you be bringing your girlfriend along to the meet-up? If you deflate her she'd fit fine into a Sainsbury's bag I reckon, no problem.
Like lifeboats? Like lifeguards? Give us a quid then as I run myself to death in October.
http://www.justgiving.com/charlotte-thompson2013